75% Chance Bitcoin Breaks Bullish Towards $12K, Analyst Asserts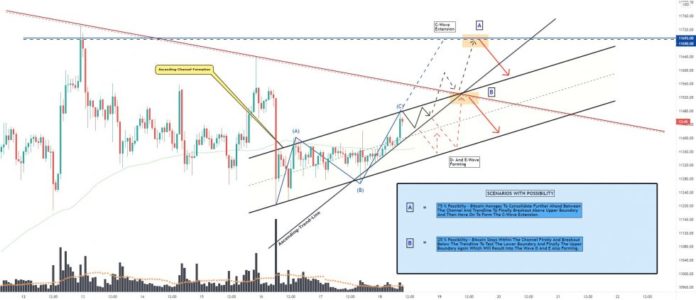 Advertisment
That raised speculations about Bitcoin's growing eminence among institutions as a store-of-value asset. Lately, many Wall Street asset management firms and independent corporations have sold their cash reserves to gain exposure in Bitcoin. The migration comes out of their fears that the US dollar would lose value in the future.
"Not only publicly traded companies are adding BTC to their balance sheets, but CFTC Chairman Heath Tarbert said to be "impressed" by the progress ETH has made to become the "world's computer," said Mr. Anissimov. "Such an endorsement is quite significant as it shows that the mass adoption of these digital assets is happening right now."
Mr. Prince favored the second outcome. He denoted each of the cryptocurrency's price reversal points with an alphabet. Therefore, the term 'A' represents the first pullback from the Ascending Channel resistance. The next rebound from the Channel Support is 'B,' while the third and the latest upside withdrawal comes from 'C.'
Seeing the entire technical structure together, Mr. Prince said that BTC/USD has a higher likelihood of breaking out of the Channel range. If the pair does, then it would extend its upside move towards the so-called "C-Wave Extension" near ,695.
Mr. Prince acknowledged those fundamentals while pushing his bullish narrative forward. The analyst noted that BTC/USD could hold above the Ascending Trendline because that is from where the "smart money is taking up trades from inexperienced investors."
The Bitcoin Bull Case Explained
Amid the so-called ABC-wave, he placed a 100-hour moving average supporting the ongoing upside move.
Bitcoin trade setup on an hourly timeframe, as presented by Vince Prince. Source: BTCUSD on TradingView.com
That has left it with two possible outcomes. First, Bitcoin consolidates inside the Channel while breaking below the "Ascending Trendline"; Second, it stays above the Trendline and later breaks out of the range altogether.
"[There is a] 75 percent possibility [that] Bitcoin manages to consolidate further ahead between the Channel and the Trendline," Mr. Prince wrote. "[Then] it would move on to form the C-Wave Extension."
The bullish prediction appeared a week after Bitcoin rejected the ,750-resistance. Traders increased their bids for the cryptocurrency after Square, a global payments platform headed by Twitter's Jack Dorsey, showed million of BTC in its balance sheets.
"Explosion" Theory
Bitcoin and Ethereum will march towards new yearly highs, he added.
There is a 75 percent possibility that Bitcoin breaks bullish out of its ongoing consolidation pattern.
Bitcoinist.com is author of this content, TheBitcoinNews.com is is not responsible for the content of external sites.
According to independent analyst Vince Prince, the benchmark cryptocurrency is making "marginal" upside movements in an Ascending Channel structure.
Send bulk sms with Bitcoin and don't worry If your link gets reported. We are constantly monitoring your links and We'll pause your campaigns if any issue…