American Economist Stephen Roach: 'U.S. Dollar in the Early Stages of Sharp Decent'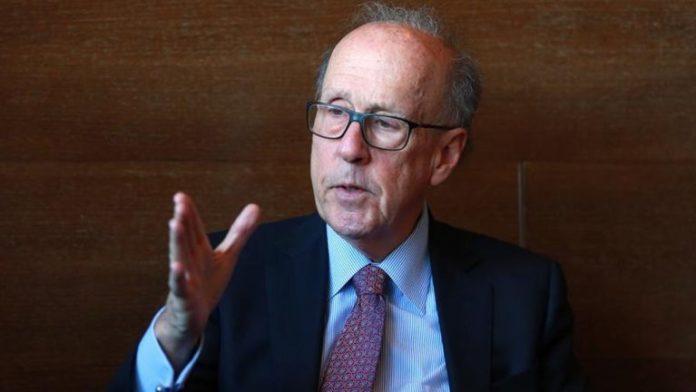 Advertisment
In Roach's opinion, this is just the beginning of the USD's deterioration, and "the savings plunge is only a hint of what lies ahead."
What do you think about Stephen Roach's opinion about the dollar collapse? Let us know what you think in the comments section below.
The famed economist wrote on Sunday that it's "no secret" what caused the unprecedented savings collapse in 2020. Moreover, the coronavirus outbreak "has been more than outweighed by a record expansion in the federal budget deficit."
American economist and former chairman of Morgan Stanley Asia, Stephen Roach said on Sunday that he believes the U.S. dollar will "crash faster and harder." Roach said similar statements during an interview back in June, and his latest commentary stresses that people should "expect the dollar to plunge by as much as 35 percent next year."
"Although cryptocurrencies and gold should benefit from dollar weakness, these markets are too small to absorb major adjustments in world foreign-exchange markets where daily turnover runs around .6 trillion," Roach said.
Roach expects the USD index to slide by as much as 35% in 2021 for a number of reasons.
"I continue to expect this broad dollar index to plunge by as much as 35 percent," Roach says in a newly written editorial. "This reflects three considerations: the rapid deterioration in macroeconomic imbalances in the United States, the ascendancy of the euro and renminbi as alternatives, and the end of the aura of American exceptionalism that has given the dollar Teflon-like resilience for most of the post-World War II era," he added.
On Sunday, Roach published an editorial that bolsters his current opinion concerning a dollar crash and the economist emphasized that the USD has "entered the early stages of what looks to be a sharp descent."
"The vice is tightening on a still-overvalued dollar," Roach concludes. "Domestic savings are plunging as never before, and the current-account balance is following suit. Don't expect the Fed, focused more on supporting equity and bond markets than on leaning against inflation, to save the day. The dollar's decline has only just begun."
Bitcoin.com is author of this content, TheBitcoinNews.com is is not responsible for the content of external sites.
Roach noted this past June in a prior opinion editorial that digital currencies like bitcoin and gold could possibly benefit from the massive dollar downturn. However, the two free-market assets may not see a significant boon from the major fiat adjustments, Roach highlighted at the time.
Stephen Roach is a well known American economist as he worked as chairman of Morgan Stanley Asia and he also advised as the company's chief economist as well. Roach currently serves as a senior fellow at Yale University and he's been discussing the American economy regularly during the last few months. Last June, news.Bitcoin.com reported on Roach's interview with CNBC when he explained a number of reasons as to why he predicts a "dollar crash."
The post American Economist Stephen Roach: 'U.S. Dollar in the Early Stages of Sharp Decent' appeared first on Bitcoin News.
The economist noted that the U.S. dollar index has slumped by 4.3% after it benefited by 7% when there was a flight to cash in February. Despite what Roach calls a "modest correction" the former Morgan Stanley Asia chairman said, "the dollar remains the most overvalued major currency in the world."
Send bulk sms with Bitcoin and don't worry If your link gets reported. We are constantly monitoring your links and We'll pause your campaigns if any issue…