Analyst: Bitcoin is Likely to Slowly Bleed Towards $8,550 Before Rebounding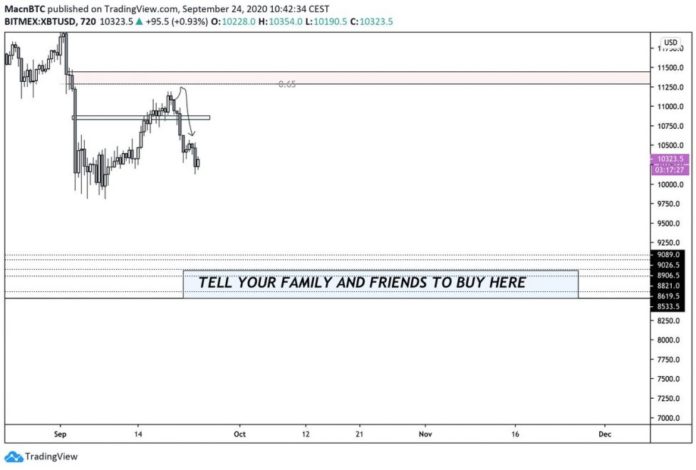 Advertisment
It has once again been a turbulent overnight trading session for Bitcoin
The benchmark cryptocurrency plunged as low as $10,200 yesterday afternoon before bulls stepped up and slowed its descent
The rebound from these lows led it to kick off a slight uptrend that has reversed the majority of yesterday's losses
Analysts are now noting that its near-term trend may depend largely a few key factors
It is important to note that the majority of these factors are not currently working in BTC's favor
This could indicate that it will see a slow bleed down to its crucial support in the $8,000 region before it can rebound
Despite the bullish response to yesterday's dip, Bitcoin may still be in a precarious position.
At the time of writing, Bitcoin is trading up just over 1% at its current price of ,400. This is around the price at which it has been trading at throughout the past few days.
While speaking about Bitcoin's near-term outlook, one analyst explained that while Bitcoin's funding/premium is negative, its MFI is drying down, the US Dollar Currency Index is trending higher, and there's unswept liquidity below.
This dip led the crypto from highs of over ,500 down to lows of ,200, which is where bulls began providing BTC with some serious buying pressure.
The rebound from here has been promising, with its price now sitting around ,400 as buyers take aim at recapturing its daily highs.
Bitcoin Struggles to Maintain Momentum as Bulls Gaurd Against Downside
One analyst observed that there are several factors currently counting against bulls. He specifically noted that a slow bleed down towards ,500 could be imminent.
Image Courtesy of Mac. Chart via TradingView.
He notes that the latter of these three factors indicates that serious downside could be imminent in the days and weeks ahead.
Analyst: These Simple Factors Spell Trouble for BTC
Featured image from Deposit Photos.
Charts from TradingView.
Bitcoin is currently stuck within another consolidation phase, with bulls gaining control over its near-term trend following a sharp dip seen yesterday.
The cryptocurrency has been unable to garner any decisive momentum in recent weeks, with sellers being in firm control in the time following the ,200 rejection.
"Bitcoin: Funding + premium negative [check] MFI drying down [x] DXY up [x] Unswept liquidity below [x]. Simple: Historically no big nukes on negative funding but BTC is likely to bleed down with traditional markets. 00-50 is get 10 loans and all in area."
Although the lower-,000 region is acting as strong support – as indicated by yesterday's dip, there's still a chance that further downside is imminent.
Send bulk sms with Bitcoin and don't worry If your link gets reported. We are constantly monitoring your links and We'll pause your campaigns if any issue…