Analytics Firm: 200,000 Bitcoin is Currently Locked Within OKEx's Wallets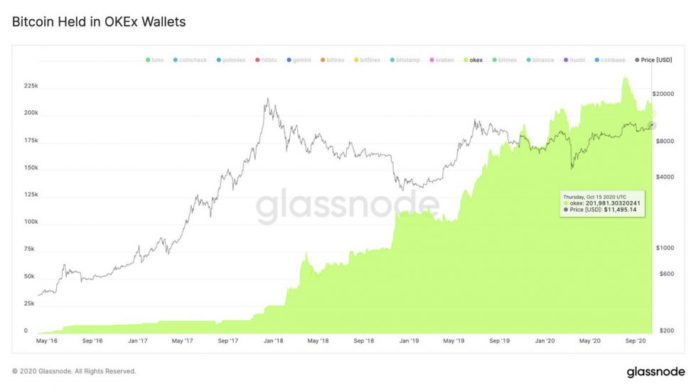 Advertisment
News regarding the OKEx founder being arrested by the Chinese government has created some fear amongst crypto investors
He holds the keys to the cryptocurrency that is locked within the platform, making it impossible for the exchange to conduct any withdraws while he is in police custody
Although the bull case is that this could reduce the supply of BTC circulating on the market, it would also strike a heavy blow to investors who used the platform
It could also rock investor's faith in centralized exchanges
One analytics firm explained that their data suggests there is 200,000 Bitcoin locked within the platform – a staggering number
One analytics firm explained that data suggests there's currently 200,000 BTC locked within the platform in a recent tweet.
This is a staggering number, and the impacts of this either being permanently locked or seized by the Chinese government has created some fear amongst investors.
In a post published just hours ago, the platform details how he regularly has to conduct withdrawal authorizations, with the latest one – which would normally occur today – not occurring due to him still being in police custody.
OKEx is one of the largest crypto trading platforms in Asia, alongside Huobi and Binance.
OKEx Halts Crypto Withdraws Following Founder's Arrest
Image Courtesy of Glassnode.
Featured image from Unsplash.
This has caused all the crypto within the platform to be locked, although users can still trade.
Glassnode: 200,000 Bitcoin Currently Locked Within OKEx
Last night, news broke that the founder of the platform had been arrested by Chinese authorities and can no longer conduct any withdraw authorizations due to him being the only key holder for the exchange's wallets.
Information surrounding the arrest of the OKEx founder is somewhat limited at the time, with some reports suggesting that he was arrested weeks ago.
Some investors are concerned that this will represent a new wave of regulatory crackdowns in China and strike a blow to Bitcoin investors and traders who were using the platform.
Bitcoin's price has been facing heightened selling pressure throughout the past few hours due to recent news surrounding the arrest of the OKEx founder.
"According to our data, around 200,000 BTC (1.1% of the circulating Bitcoin supply) are currently held in OKEx wallets. That is around .3 billion worth of BTC stored in the exchange's vaults."
Send bulk sms with Bitcoin and don't worry If your link gets reported. We are constantly monitoring your links and We'll pause your campaigns if any issue…