Atari Has Launched Their IEO Public Sale Today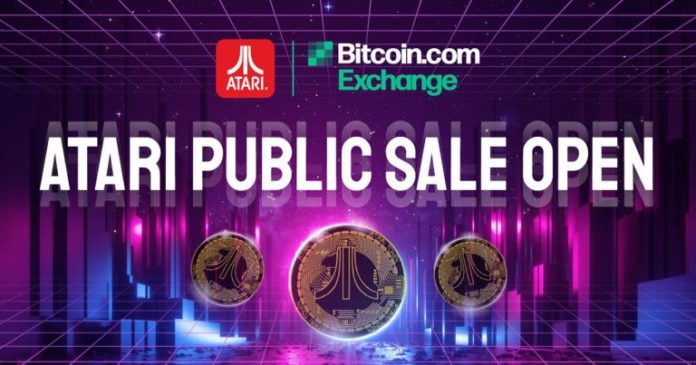 Advertisment
Bitcoin.com is author of this content, TheBitcoinNews.com is is not responsible for the content of external sites. Contact Email: [email protected]
The entertainment industry is at a point where to remain competitive, one must start thinking on future developments in payments and community management. Atari's mission is to conquer the crypto space, and by creating this token, they are attempting to enable access to as many platforms and users in the videogame industry as possible via atarichain.com, the Atari wallet and generally the creation of a blockchain-based ecosystem around the Atari brand.
The Transform Group
Contact Name: Peter Dao
Token Name: Atari Token (ATRI)
Token Type: ERC-20
Public Sale Date: October 29, 2020
Offered Price for 1 ATRI: $0.25
Hard Cap: $1,000,000 (one million US dollars)
Circulating Supply before the public sale: 68.7 million ATRI Tokens
Contributing Currencies: BTC, LTC, BCH, ETH, USDT
Valuation of the Circulating Supply before the public sale, based on the Offered Price for 1 ATRI: $17.2 million
Atari Token has been in steady development, already establishing multiple use cases and partnerships with industry leaders, while continuously expanding its reach. These developments will only continue to expand, well past the Public Sale, as we work to bring Atari Token to the masses. Information about use cases & partnerships can be found here.
About Atari
Internal:
Atari Chain, Ltd
This is a press release. Readers should do their own due diligence before taking any actions related to the promoted company or any of its affiliates or services. Bitcoin.com is not responsible, directly or indirectly, for any damage or loss caused or alleged to be caused by or in connection with the use of or reliance on any content, goods or services mentioned in the press release.
Details of the Atari Token (ATRI) Public Sale
The mission of Bitcoin.com Exchange is to empower people from all over the world to trade cryptocurrencies with ease and confidence, from first-time traders to advanced trading professionals. With high liquidity, 24/7 multilingual support and dozens of trading pairs, complemented with a high level of security, we offer an attractive platform for trading any cryptocurrency. Within one year since launch, on average, our exchange has been visited by more than 500K active traders per month, and this number continues to grow as you read this sentence.
PRESS RELEASE. NEW YORK/PARIS – October 29, 2020 – Bitcoin.com Exchange, one of the leading authorities in cryptocurrency exchanges announces the launch of the Atari Token (ATRI) public sale today at 12:00 UTC.
Contact Email: [email protected]
Contact Name: Antonio Bileci
About Bitcoin.com Exchange
Media Contact Info
Contact Name: Transform Group
Atari, composed of Atari SA and its subsidiaries, is a global interactive entertainment and multiplatform licensing group. The true innovator of the video game, founded in 1972, Atari owns and/or manages a portfolio of more than 200 games and franchises, including globally known brands such as Asteroids®, Centipede®, Missile Command® and Pong®. From this important portfolio of intellectual properties, Atari delivers attractive online games for smartphones, tablets, and other connected devices. Atari also develops and distributes interactive entertainment for Microsoft, Sony and Nintendo game consoles. Atari also leverages its brand and franchises with licensing agreements through other media, derivative products and publishing.
*Kindly note: Atari Tokens (ATRIs) will be available at the specific price until the Hard Cap is met.
"The Atari Token team, in collaboration with the bitcoin.com team, have been working tirelessly over these the course of the last month to bring the Atari Token to the public, we're extremely pleased to finally be able to share all of our hard work with you. This is only the first step in our journey in creating the token of reference for the interactive entertainment industry." – Fred Chesnais, CEO of Atari Chain.
For more information and to buy ATRI tokens, please visit the Bitcoin.com IEO platform.
Bitcoin.com Exchange
The post Atari Has Launched Their IEO Public Sale Today appeared first on Bitcoin News.
Contact Email: [email protected]
In brief, an Initial Exchange Offering, commonly referred to as an IEO, is a fundraising event that is administered by an exchange. In contrast to an Initial Coin Offering (ICO) where the project team themselves conduct the fundraising, an Initial Exchange Offering means that the fundraising will be conducted on a well-known exchange's fundraising platform, similar to the upcoming Bitcoin.com Exchange Launchpad, where users can purchase tokens with funds directly from their own exchange wallet.
Bitcoin.com Exchange has launched the public sale of the Atari Token (ATRI) via their platform. By accessing the link here, you will have the chance to be one of the first people to join in Atari's journey in becoming the leader of both the video-game industry, and also conquering the blockchain space as well.
"Atari's mark on the videogame industry is just the beginning" said Danish Chaudhry, CEO at Bitcoin.com Exchange. "From announcing this IEO around a month ago till today, the amount of interest gathered was highly significant, paving the way for the future in their respective industry. Atari will now, via the Atari Token, be for sale until the ,000,000 value has been met, where the token will then be listed on Bitcoin.com Exchange for users to store, access and trade."
Sign up to Bitcoin.com Exchange here.
Purchasers who have already registered, and passed KYC/AML procedures via our platform can already buy ATRI tokens via our IEO platform. For purchasers who have not registered, but wish to learn how to register, pass KYC and ultimately buy some ATRI tokens may check out our IEO Guide for the Atari token.
---
Be Part of the Public Sale
What is a Public Sale/IEO?
Within the past month, prior to the launch of the Atari Token (ATRI) public sale, Bitcoin.com Exchange and Atari have conducted multiple social competitions, podcasts, vodcasts, AMAs, interviews, guides and marketing activities; effectively boosting the Atari Token name across the crypto sphere and beyond. Both crypto entities' goal is to promote mass adoption, and subsequently a new age in the finance and entertainment spheres alike.
Send bulk sms with Bitcoin and don't worry If your link gets reported. We are constantly monitoring your links and We'll pause your campaigns if any issue…