Bitcoin Breaks $11.8K on Jerome Powell Speech; Is Rally Sustainable?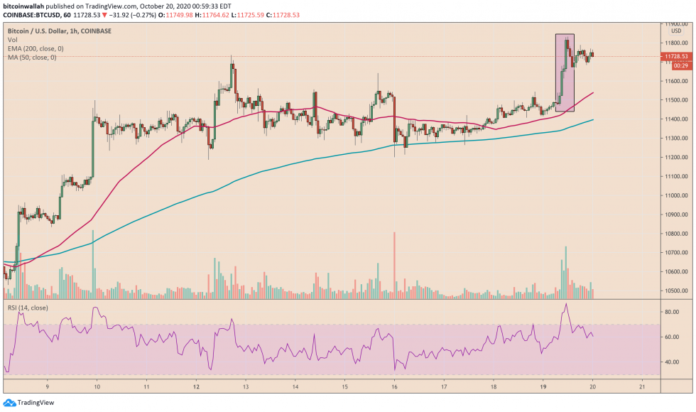 Advertisment
Bitcoin rallied ahead and around Mr. Powell's speech on Monday. Source: BTCUSD on TradingView.com
In the short-term, Bitcoin expects to retain its positive correlation with the US stock market. The cryptocurrency's direct relationship with the S&P 500 has been erratic, as shown in the Skew chart below. It rises and falls consecutively, but remain intact on a medium-term outlook.
A Jerome Powell speech on central bank digital currencies (CBDC) was enough to decouple Bitcoin from traditional asset markets.
The next hour, however, it resumed its short-term uptrend by adding another 0 to it. Around noon ET, Bitcoin had established an intraday high at ,833.
The benchmark cryptocurrency surged above ,800 in the hours leading up to the Federal Reserve chairman's cautious remarks on CBDCs at a panel organized by the International Monetary Fund. At 0900 ET Monday, BTC/USD underwent a speculative jump from ,523 to ,650. One hour later, when Mr. Powell started his speech, the pair rested.
Xi Jinping Vibes
Bitcoin's daily candle, on the other hand, logged a 2.14 percent intraday return.
Bitcoin jumped by more than ,000 after Mr. Jinping's pro-blockchain statements. Source: BTCUSD on TradingView.com
Bitcoinist.com is author of this content, TheBitcoinNews.com is is not responsible for the content of external sites.
It was a standalone act. None of the indexes that formed a positive correlation with Bitcoin matches its ascent in early Monday hours. The S&P 500, for instance, jumped 0.90 percent after the New York opening bell but later pared all those gains to close 1.63 percent lower.
An imminent correction was a word of caution among many traders as they addressed the Bitcoin rally's size and pace. A pseudonymous one said that he'd be cautiously waiting for the crypto to hold above ,660 before opening any new bullish positions.
What's Next for Bitcoin
BTC/USD climbed by more than 40 percent – from ,430 to as much as ,540 – before succumbing to a strong selling wave that followed later. The pair crashed by more than 39 percent when the China hype faded.
The reason is that every market is waiting for the second coronavirus stimulus package. Once the negotiations settle – macro analysts expect a deal by the November 3 presidential election – all the riskier assets would likely surge in tandem.
The uptick in BTC/USD on Monday served as a reminiscent of a short-term upward trend in October 2019. Only that time, traders raised their bids for the pair after Xi Jinping, China's premier, endorsed blockchain – Bitcoin's underlying technology – in a public event.
Bitcoin also anticipates reaching a new yearly high as the stimulus reduces the bids for the US dollar – and even as it gives the Fed adequate tools to continue its near-zero lending rate and its infinite bond-buying program.
Send bulk sms with Bitcoin and don't worry If your link gets reported. We are constantly monitoring your links and We'll pause your campaigns if any issue…