Bitcoin.com Exchange Acquires BOA Exchange To Reach New Markets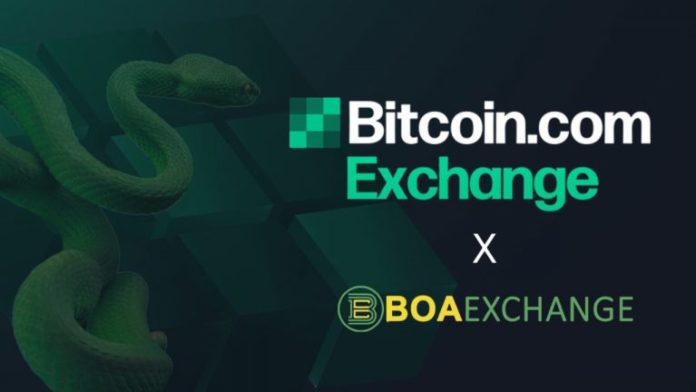 Advertisment
Bitcoin.com is author of this content, TheBitcoinNews.com is is not responsible for the content of external sites.
Bitcoin.com Exchange
This is a press release. Readers should do their own due diligence before taking any actions related to the promoted company or any of its affiliates or services. Bitcoin.com is not responsible, directly or indirectly, for any damage or loss caused or alleged to be caused by or in connection with the use of or reliance on any content, goods or services mentioned in the press release.
Danish Chaudhry, Head of Bitcoin.com Exchange stated: "We are pleased to have made this acquisition at this time, as it furthers our reach into the European and Asian markets as we witness a consolidation in the crypto exchange space."
About Bitcoin.com Exchange
BOA Exchange is a crypto exchange that has accumulated a vast user base, offering free alt tokens in airdrops and staking coins. The deal further expands the reach of Bitcoin.com exchange into the underserved Eastern European and Southern Asia marketplaces. BOA Exchange came onto the scene in 2018 during the height of the ICO craze making a name for itself in the altcoin and airdrop marketplace, offering cheap listings and a plethora of free tokens to its members.
Media Contact Info
Contact Name: Antonio Bileci
The mission of Bitcoin.com Exchange is to empower people from all over the world to trade cryptocurrencies with ease and confidence, from first-time traders to advanced trading professionals. With high liquidity, 24/7 multilingual support and dozens of trading pairs, complemented with a high level of security, we offer an attractive platform for trading any cryptocurrency. Within one year since launch, on average, our exchange has been visited by more than 500K active traders per month, and this number continues to grow as you read this sentence.
Sources close to the deal told the news source the deal will consist of a straight crypto transaction with an undisclosed amount of Bitcoin Cash (BCH). In terms of how the transition will pan out, users will soon be going to exchange.bitcoin.com to check their balances. However, users at BOA Exchange will have time to either withdraw their tokens from the old exchange and signup to exchange.bitcoin.com to easily transition to the new platform.

Bitcoin.com Exchange also said that the acquisition comes at a great inflection point in the industry, with new traders across the globe adopting crypto and speculating it due to current circumstances of further trust in the market. The exchange has said that it has seen a plethora of new signups, ranging from beginner to advanced traders over the past couple of months. This could also be due to the new margin trading capabilities available within the exchange.
---
The post Bitcoin.com Exchange Acquires BOA Exchange To Reach New Markets appeared first on Bitcoin News.
Contact Email: [email protected]
Announced earlier this week, the two companies said the deal is expected to be finalized immediately, without disclosing the financial terms.
Send bulk sms with Bitcoin and don't worry If your link gets reported. We are constantly monitoring your links and We'll pause your campaigns if any issue…