Bitcoin Overtakes PayPal Market Cap, Sets Sights On VISA, Mastercard, And Big Banks Next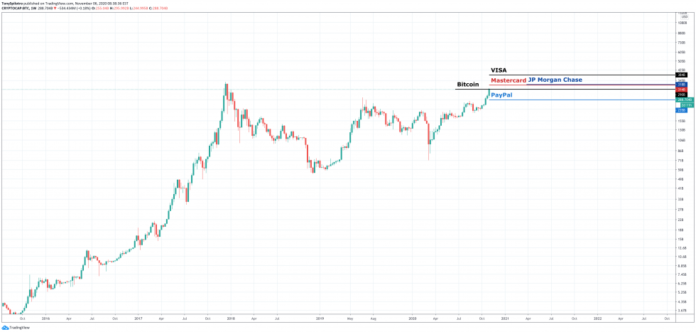 Advertisment
The first-ever cryptocurrency could also eventually become the global reserve currency, taking out the dollar and absorbing all fiat value across the globe. It might sound fanatical now, but when the crypto asset was trading at less than 10, had someone claimed in ten years it would be taking on PayPal, VISA, and Mastercard, they'd have told you to shut up and pass the slice of pizza they just paid 10,000 BTC for.
Bitcoin Market Cap Now Bigger Than PayPal, Approaching VISA, Mastercard, and Major Banks
Next up MasterCard and JPMorgan Chase at about 500 per BTC.@assetdash pic.twitter.com/hTWNQWAvqG
Comparing each market cap shows just how close Bitcoin is to beating these financial giants at their own game | Source: CRYPTOCAP-BTC on TradingView.com
To put that into perspective, at the 21 million BTC or 84 million LTC supply cap, if every user wanted a Bitcoin or Litecoin, there would only be enough for each person to own 0.06 and 0.024 respectively. The news helped propel Bitcoin's market cap to a value higher than PayPal's, even though PYPL shares set an all-time record also on the news.
RELATED READING | CAN BITCOIN FIX WHAT TOP ECONOMISTS SAY CENTRAL BANKS CANNOT SOLVE?
Since the tweet above, Bitcoin added another billion to its market cap, making it an even tighter race between it, Mastercard, and JP Morgan Chase & Co.
Ever since news broke that PayPal would be supporting Bitcoin and other cryptocurrencies in the future, the price per BTC and the asset's overall market cap has ballooned. And while PayPal's support of the emerging financial tech is what started off the recent bullish impulse, the momentum has carried the top cryptocurrency's market cap beyond the payments giant's valuation itself. Next on Bitcoin's list? VISA, Mastercard, JP Morgan Chase, gold, the dollar, and the rest of the financial world.
Earlier in the year, even VISA revealed its plan to "advance" its approach to digital currencies and pledged to interweave the technology into its own massive payment networks. VISA and competitor Mastercard, could be two of Bitcoin's next victims in terms of hurdling their market cap.
Featured image from Deposit Photos, Charts from TradingView.com

After taking out PayPal, and next the first of two major credit card providers, it could move on to taking on a massive bank that once trashed the cryptocurrency's mere existence.
— Daniel Frumkin (@dfrumps) November 5, 2020
RELATED READING | GOOGLE FINANCE NOW LISTS BITCOIN FIRST AHEAD OF TOP FOREX CURRENCIES #Bitcoin leaving PayPal in the rear view mirror.
The "if you can't beat 'em, join 'em" attitude is spreading elsewhere also.
Based on supply versus demand, it is easy to see why the crypto market would respond so bullishly to news of such exposure through a payment giant. It also in some way, shows that these corporations that once dominated digital money, are conceding to Bitcoin.
Weeks ago, online payment pioneer PayPal announced it would offer support for buying, selling, and storing major cryptocurrencies Bitcoin, Litecoin, Ethereum, and Bitcoin Cash to its 346 million users.

Send bulk sms with Bitcoin and don't worry If your link gets reported. We are constantly monitoring your links and We'll pause your campaigns if any issue…