Bitcoin Resilience Remains As Stock Market Closes Worst Day In Months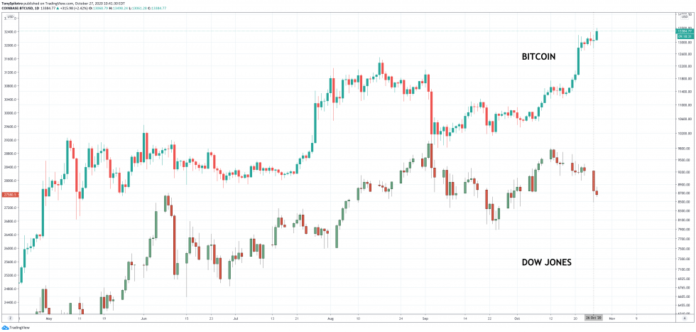 Advertisment
The stock market yesterday closed its worst single-day decline in nearly two months, causing the richest people in the world to lose over billion in net worth. Bitcoin also pulled back yesterday, but as of this morning is already trading higher than before, while the S&P 500, the Dow Jones, and the Nasdaq continue to plunge.
RELATED READING | ALWAYS ON: BITCOIN TO SURPASS S&P 500 TRADING TIME WITHIN TWO YEARS
US Indices Tank As Election Day Draws Closer, Uncertainty Turns To Fear For Stock Market Investors
The leading cryptocurrency by market cap, yet again set another new high for the year today, demonstrating a strong bullish trend compared to the bearish stock market. Crypto analysts have been calling for a decoupling of the correlation that's plagued Bitcoin throughout the year.
Bitcoin had a strong pullback yesterday as the Dow Jones, S&P 500, and Nasdaq all broke down from support. Each major US stock index headed lower as of this morning's opening bell.
What's causing this sudden divergence between the two vastly different asset classes that all this year have been tightly correlated, and can the leading cryptocurrency by market cap keep it up?
BTC correlation with the NDX, SPX, and DJI throughout 2020 finally decoupling | Source: BTCUSD on TradingView.com
The fear of the unknown and potential changes to corporate and capital gains tax laws has investors selling ahead of the year-end, booking what has likely been a surprisingly profitable year for most, considering the condition of the economy.
Bitcoin Resilience And Decoupling Discussions Turns Crypto Market To Greed
RELATED READING | DECOUPLED: ANALYZING BITCOIN DIVERGING AWAY FROM THE STOCK MARKET
The incredibly controversial showdown between President Donald J Trump and former Vice President Joe Biden will culminate on November 3rd, and US stock market investors are de-risking ahead of what could be a stormy time for the country.
Featured image from Deposit Photos, Charts from TradingView.com
Bitcoin rises while the Dow Jones plunges to worst day in months | Source: BTCUSD on TradingView.com
Bitcoin isn't fully out of the water, however. The cryptocurrency has deviated before, and this could suggest that stocks will reverse, or Bitcoin will, putting them back on parity. However, if the decoupling truly is here, Bitcoin's bull run could be further fueled by stock market money following where the profitability is, and that could be the cryptocurrency for the next several years.
Coinciding with the political climax is a second wave of the pandemic, and what is expected to be the least profitable Q4 in years for the retail industry.
Send bulk sms with Bitcoin and don't worry If your link gets reported. We are constantly monitoring your links and We'll pause your campaigns if any issue…