Bitcoin Weekly Outlook: Expect Downside Correction as Stimulus Enters Deadlock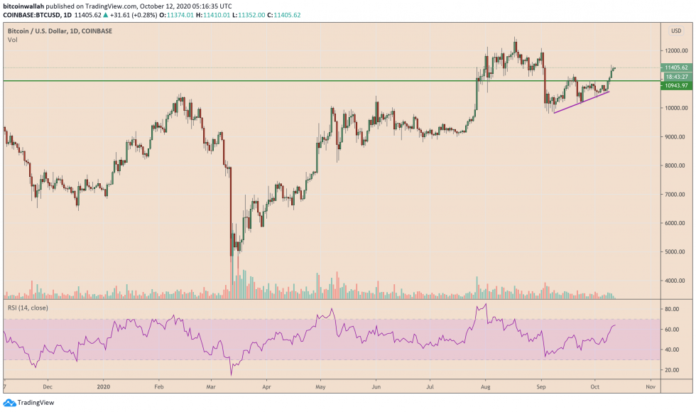 Advertisment
The benchmark cryptocurrency has opened Monday in positive territory. As of 0516 UTC, it was trading for ,405, up 16.27 percent from its recent bottom and down 8.62 percent from its year-to-date high.
Second, the ongoing stimulus negotiations are at an impasse as US policymakers spew allegations over one another ahead of the November 3 presidential election.
Resistance Everywhere
For Bitcoin, that means a lack of US dollar liquidity in the short-term. The market expects investors to hold onto their cash unless there is concrete evidence of government spending. That reduces the appeal of riskier and other safe-haven assets, including stocks and gold.
A significant price rebound in the Bitcoin market last week is now at the risk of paring in the current one.
It is because of the fading impact of the catalysts that started the Bitcoin pump in the first place. Last week, news of Square, a global payments firm headed by pro-Bitcoin Twitter chief Jack Dorsey, purchasing about million worth of BTC fueled the cryptocurrency higher.
In a letter to House Democrats on Sunday, House Speaker Nanci Pelosi criticized the .9 trillion stimulus package from Treasury Secretary Steven Mnuchin. Calling it "inadequate," she said that the Republicans proposed lesser-than-anticipated funds for testing, contact tracing, and treatment of the coronavirus.
Bitcoin logged 7.72 percent gains in a five-day winning streak ending Sunday. Source: TradingView.com
"This past week, the president demonstrated very clearly that he has not taken the war against the virus seriously, personally or nationally," the letter read. "This attitude is reflected in the grossly inadequate response we finally received from the administration on Saturday. Until these serious issues are resolved, we remain at an impasse."
But one cannot expect Bitcoin to hold its gains for a longer timeframe for two reasons. First, MicroStrategy, a public-traded firm, bought about 5 million worth of BTC that later followed a significant price correction towards ,200. In comparison, Square's investment is peanuts.
— Pomp
(@APompliano) October 9, 2020
Stimulus Plays a Spoiler
— Donald J. Trump (@realDonaldTrump) October 9, 2020
But for this week, one can expect the cryptocurrency to turn lower towards its newfound support near ,000.
Technically, Bitcoin's strong upside move met an equally robust resistance at ,500. The said level held the price from jumping any further, as it had done on July 27 and on some days of August 2019.
Bitcoinist.com is author of this content, TheBitcoinNews.com is is not responsible for the content of external sites.
If Trump approved a trillion stimulus package, I'm selling my kidney to buy more Bitcoin https://t.co/iCtYOdE1dk
Covid Relief Negotiations are moving along. Go Big!
Nevertheless, gold bugs are hoping that a clear Joe Biden-win would have the US Congress to release a gracious relief package. That, in turn, would act as a bullish catalyst for Bitcoin in the long-term.
Simultaneously, President Trump stepped away from canceling stimulus negotiations with the Democrats.
Send bulk sms with Bitcoin and don't worry If your link gets reported. We are constantly monitoring your links and We'll pause your campaigns if any issue…