Bitcoin Weekly Outlook: Indecisive US Election Remains the Biggest Risk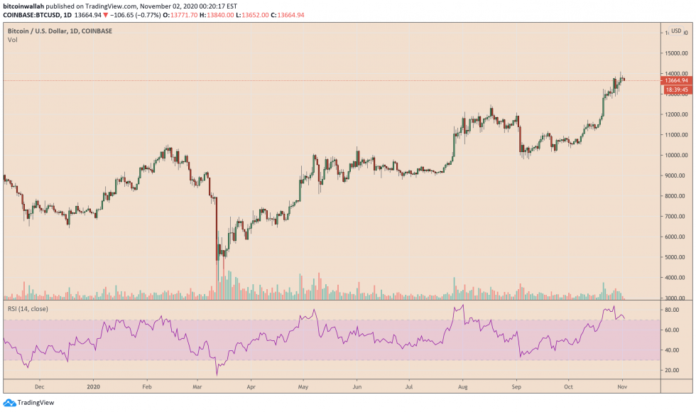 Advertisment
Bitcoin shows signs of correction while approaching the US election day. Source: BTCUSD on TradingView.com
Bitcoin would need to hold above ,500 until Friday to ensure a retest of ,000. If not, the cryptocurrency risks a decline towards ,000.
The collateral damage an event of an indecisive US election is stimulus delay. The market is waiting for the second coronavirus relief package for months since the first aid has dried out completely. But it continues getting delayed as the Democrats and the Republicans negotiate its size.
What's the Matter?
That shows uncertainty at the end of both bears and bulls. And likely so, Tuesday's US presidential election day has everything to do with it.
On Wednesday and Thursday, the Federal Reserve will conduct its monthly meeting. On Friday, the US Nonfarm Payrolls report for October from the US Labor Department will also go public. Both the events would bring a short-term outlook of the US economy amid a stimulus impasse.
If Trump contests the outcome in the Supreme Court, then the stimulus impasse could drag on and on.
By contrast, the next election delay comes amid a global pandemic and a recession, unprecedented sovereign deficits, and deep partisan issues between the Democrats and the Republicans. In these times, the only safe-haven that investors could find ideal is the US dollar – historically.
Bitcoin posted its second-best monthly gains in October 2020, breaking above ,000 on the very last day to reclaim its three-year high.
The S&P 500 had fallen by 5 percent during that period.
It is a week of volatility for the world's leading cryptocurrency.
But now, the cryptocurrency stands inside a technically overbought zone, expecting correction/consolidation to neutralize its bias. The weekend trading session saw the Bitcoin price falling to as low as ,630 (data from Coinbase). Meanwhile, entering the new weekly session has seen it recovering to as high as ,840.
What's Next for Bitcoin?
A stimulus deal remains evasive unless there is a decisive electoral outcome. Last month, Donald Trump warned that he won't accept a defeat from his contender Joe Biden on suspicion of vote fraud. But now, when a majority of polls are predicting a win for the Democratic nominee, traders expect a political drama.
Bitcoin could hold its technical support of ,100 until the election night on expectations of a decisive win for either Biden or Trump. But if anything goes south, then investors could run for the US dollar. That would put negative pressure on Bitcoin, leading it below the ,000-support altogether.
But it was a better time economically. The US government surplus was in positive territory. So a delay in the US election outcome couldn't shock the market.
Bitcoinist.com is author of this content, TheBitcoinNews.com is is not responsible for the content of external sites.
Send bulk sms with Bitcoin and don't worry If your link gets reported. We are constantly monitoring your links and We'll pause your campaigns if any issue…