Buoyed Bitcoin Price Trend Fails to Turn Up on Internet Searches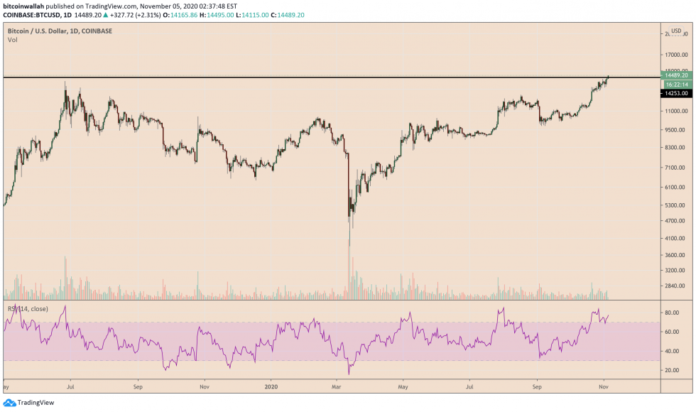 Advertisment
Bitcoinist.com is author of this content, TheBitcoinNews.com is is not responsible for the content of external sites.
Bitcoin nears ,500 in the latest upside push on Thursday morning. Source: BTCUSD on TradingView.com
In contrast, Bitcoin's top hedging rival gold has had a steady trend. Its readings fluctuated between '82' and '51,' mostly on a five-year timeframe. They remained stable above '71' in the last 12 months.
"This is not the top of a bubble-induced mania, it's orderly and quiet," explained Mr. Hauge while comparing the 2017 trend with the current one. "The next peak in Google Trends will make the last one look like nothing because it was Bitcoin."
Bitcoin's cheerleaders have long projected it as the ultimate hedging asset against fiat money because it has a definite supply cap of 21 million tokens. With individual mainstream firms opting to replace a portion of their cash reserves with Bitcoin, the narrative has strongly built up on social media.
Dismissive Trend
The latest readings on the world's biggest online search engine show a lack of interest in Bitcoin among everyday internet users. On a scale of zero to 100 on a five-year timeframe, Bitcoin scores 9. Switching the period to 12 months turns the score upward to 63.
For many Bitcoin enthusiasts, the flagship cryptocurrency has arrived on Wall Street with aplomb.
The boom ended with a significant bust as most of those projects failed or turned out to be scams. Bitcoin fell by 84 percent from the ,000-high as a result. The same happened to its Google Trend score, which dived from '100' in December 2017 to '5' in November 2018.
Hans Hauge, the head of the quantitive strategy at Los Angeles-based Ikigai Asset Management, considers the absentee 'Bitcoin' interest against its rising price as good news. He noted that the lower readings for the keyword 'bitcoin' show that the cryptocurrency is more mature.
Interestingly, Bitcoin has scored a perfect '100' on a 12-month timeframe in the week of May 10-16, 2020. The move coincided with the cryptocurrency undergoing its third "halving" – an event that periodically slashes its daily supply by half, adding further to its scarcity against the fiat currencies.
A Piece of Good Bitcoin News, After All
Many analysts concur that Bitcoin's renewed price rally has to do with investors' growing demand for safe-haven assets. Some, including Bloomberg, even believe that the cryptocurrency would revisit ,000 by the end of this year due to ballooning federal deficits caused by trillions of dollars of government spendings and fears of inflation.
In contrast, Bitcoin's trend score was a perfect 100 in December 2017 when the cryptocurrency was marching towards ,000. Most of the said sentiment had to do with the then-booming initial coin offering space. Startups raised operational funds in BTC by posing as the next blockchain unicorns, luring ordinary citizens to search more about how to buy Bitcoin.
Searches for the keyword 'Bitcoin' stays lower despite huge macro interest. Source: Google Trends
Send bulk sms with Bitcoin and don't worry If your link gets reported. We are constantly monitoring your links and We'll pause your campaigns if any issue…