DocFlow by PixelPlex – Blockchain-Powered Solution for Secure Document Management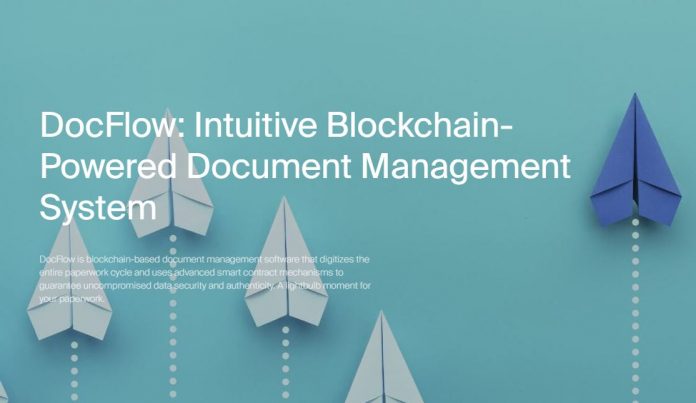 Advertisment
Over the years of developing blockchain solutions, PixelPlex was able to test all the features of this technology in practice. Hence, when the team began working on the new DMS, the choice in favor of blockchain was quite obvious.
Document management challenges
Another important benefit is the acceleration of all workflows related to documents. DocFlow enables companies to automate the processing, issuance, and retrieval of documents, and to simplify the maintenance and regulation of the business network. The processes of reconciliation and agreement are significantly accelerated, too.
There are certain risks associated with third-party online document management services;
Using conventional DMS or traditional document processing methods is time-consuming;
Data security and internal workflows are often compromised;
Confidential documents may be at risk during processing or approval.
While the first and most obvious use case for DocFlow is also related to supply chain management, the platform has a lot more to offer for e-commerce and retail.
Today's supply chains are extremely complex, so when a problem occurs, it is very difficult to determine at what stage the delivery company made a mistake. Finding and fixing the problem can take a long time, leading to delays in deliveries and possible product damage.
PixelPlex noted that DocFlow can be useful in any industry that works with documents, but they also commented on how exactly the application can help some of them.
Healthcare
Digitization of powers of attorney.
Conventional document management systems provide their users with the ability to make changes or delete documents. While this seems to be quite convenient, documents can be easily falsified. The data can be changed for someone else's purposes and it will be extremely difficult to find the one who did it.
Multi-signature document flow management and automated decision making
Supply chain management is also important here, as the quality of prescription drugs and equipment can affect people's health. DocFlow helps clinics, hospitals, and other healthcare providers better control their supply chain and ensure that drugs and equipment are delivered in the right conditions.
DocFlow can also be used in accounting, finance, insurance, energy, telecommunications, legal document management, real estate, engineering, and construction.
Virtual currency is not legal tender, is not backed by the government, and accounts and value balances are not subject to consumer protections. TheBitcoinNews.com holds several Cryptocurrencies, and this information does NOT constitute investment advice or an offer to invest.
Why is it an advantage though?
Using this PixelPlex blockchain for documents, companies can take control of the supply chain and track the origin and movement of a product on its way to the end customer.
TheBitcoinNews.com – Bitcoin News source since June 2011 –
Blockchain does an excellent job of addressing these issues as this technology always involves encryption, hashing, and decentralization of the network. These features greatly contribute to the system's security, exclude intermediaries, and eliminate the risk of document damage and loss.
PixelPlex has been working on custom blockchain solutions since 2013 and has already implemented over 50 blockchain projects. The company is committed to building reliable and highly secure applications, and this time PixelPlex developers have created DocFlow, a robust business document management system that helps solve the problems associated with electronic file circulation. This promising solution offers great opportunities for enterprise development.
DocFlow benefits
Healthcare insurance execution and storage can also become much easier. Health insurance conditions can be built into smart contracts, so in this case, they will be executed automatically upon the occurrence of an insured event.
In this case, DocFlow becomes a platform for companies' executives, secretaries, and shareholders, where they can go through all the stages of approval or rejection of a resolution within one web application. In addition, the platform allows you to invite co-signers from other companies and vote together on important issues.
Advertise with us : Advertise
Blockchain has established itself as a technology capable of transforming the way supply chains work. DocFlow is intended to confirm this statement as well. The process of delivering a product from the manufacturer to the end customer usually involves dozens of people along the way who may not even communicate with each other.
DocFlow: helping various industries
E-commerce and retail
The DocFlow blockchain protects data at all levels with multi-tier role-based and coded access and keeps company information safe from hacking using encryption and hashing.
Thus, companies that decide to use DocFlow significantly speed up the processes of working with documents, exclude intermediaries from various procedures, thereby saving the company's financial resources, and also provide 100% protection of their documents from loss, damage, and falsification.
DocFlow can also provide a secure storage facility for electronic health records (EHR). Healthcare providers will record information about medical examinations and the patient's health status, and patients can view this data and share it with doctors in other institutions. This eliminates the need to visit multiple locations to obtain paper-based medical records.
The PixelPlex application also provides support for the P2P marketplace and enables businesses to work more efficiently with CRM documentation.
Here's what DocFlow can do.
When working with regular document management systems, most enterprises face several common problems:
The solution also provides automatic payment processing and stakeholder database support.
Participants in the supply chain can also register a reputation score. It will motivate workers to do their job better and more responsibly.
DocFlow & its use cases
It can be used, for example, to digitize product warranties. Stores no longer need to issue paper warranties, they only need to fill out an electronic form that will be stored in the buyer's app as well.
Transparency, in its turn, increases trust between network participants. DocFlow provides decentralized data storage, which means there is no central authority to control the system. The solution also helps eliminate fraud with built-in proof of origin techniques.
Many benefits come from the fact that DocFlow is built on the blockchain. One of them, for instance, is the inability to change, alter, or delete information that has already been recorded in the system.
Generally, DocFlow is a platform that provides the necessary tools to digitize the entire paperwork cycle and allows information to be recorded on the blockchain. However, the range of possibilities offered by the solution is much wider. Let's look at a few of them.
Thus, thanks to DocFlow, enterprises will be sure that all information about their documents is correct and will remain in the system. If changes are made to the documents, then the docs will be digitized, loaded into the system, and information about the changes will be added to the blocks in chronological order. Any member of the network will be able to log in and track the required document since all blocks are timestamped and the document history is transparent.
Everything on this website can be seen as Advertisment and most comes from Press Releases, TheBitcoinNews.com is is not responsible for any of the content of or from external sites and feeds. Sponsored posts are always flagged as this, guest posts, guest articles and PRs are most time but NOT always flagged as this. Expert opinions and Price predictions are not supported by us and comes up from 3th part websites.
PixelPlex added that transaction verification speed has been increased by the Kafka consensus algorithm, and companies can save valuable resources with zero transaction fees.
Logistics and supply chain management
One use case for this solution is to digitize powers of attorney and enable executives to manage powers in favor of representatives, who can then act on their behalf. This way, DocFlow can be used as a blockchain document notarization system.
Send bulk sms with Bitcoin and don't worry If your link gets reported. We are constantly monitoring your links and We'll pause your campaigns if any issue…