Ethereum's Near-Term Fate May Rely on This One Surprising News Event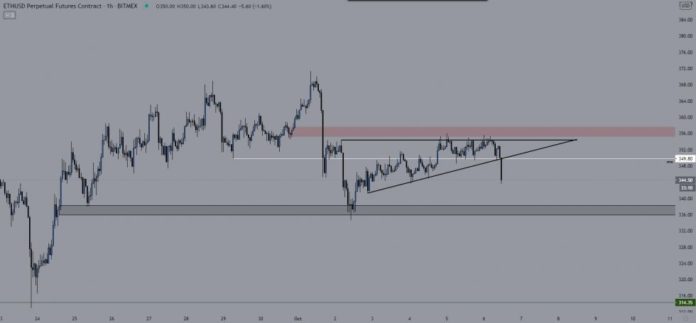 Advertisment
Ethereum's mid-term outlook has been foggy over the past few days and weeks, with buyers and sellers being unable to gain control of its trend
The cryptocurrency is still trading squarely between $340 and $350, with it facing some heightened selling pressure earlier on in the day
This selling pressure caused it to dip from highs of $355 to lows of $345
It remains unclear as to what may have caused this to occur
One analyst is now noting that one key political event could determine Ethereum's near-term fate
Bitcoin, at the moment, is quite stable above ,700, making today's ETH movement quite surprising.
Altcoins, in general, are looking weaker than BTC, which may be mainly due to investors fleeing assets that are perceived as being risky as the market consolidates.
While speaking about where he expects Ethereum to trend next, one analyst explained that decisions regarding a federal stimulus package are likely what will determine the crypto market's fate.
Image Courtesy of Chase_NL. Chart via TradingView.
Where the entire crypto market trends next will likely depend primarily on Bitcoin.
Ethereum Struggles to Gain Momentum as Selling Pressure Persists
"ETH update: Well, it's been some time since the last post. I have suffered through endless bullish rhetoric, but these hands remain strong. Half my short from 366 is still intact. From here, TP's rely heavily on Trump/stimulus news. Not bullish until we're closing above 360."
Ethereum and the entire cryptocurrency market lack momentum in either direction. Both bulls and bears have been trying to gain control of its near-term outlook, which has largely resulted in it seeing a bout of consolidation.
At the time of writing, Ethereum is trading down just under 2% at its current price of 6. This is around where it has been trading at throughout the past few days and weeks.
Here's Why One Analyst Believes Ethereum's Fate Hinges on Stimulus Discussions
He specifically notes that it will be highly influential for Ethereum, as it is trading just below its crucial resistance at 0.
He notes that decisions regarding a second round of stimulus could be what single-handedly influences where Ethereum trends in the mid-term.
That being said, one analyst is pointing to a key political event as a highly influential factor for ETH and other altcoins.
Featured image from Unsplash.
Charts from TradingView.
ETH did incur some turbulence earlier today independent from the rest of the market, which compounded its weakness and sparked inflows of selling pressure. Bulls are currently trying to absorb this.
Send bulk sms with Bitcoin and don't worry If your link gets reported. We are constantly monitoring your links and We'll pause your campaigns if any issue…