Exclusive Interview with May, founder of Gachyi Land, the First Gacha-Launchpad Ecosystem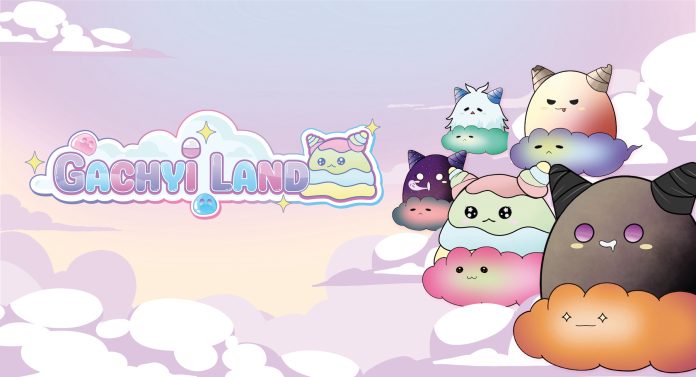 Advertisment
I'm sure a lot of people are aware of the extremely large gas fees on the Eth network, sometimes the gas fees are actually higher than the actual NFT. Launching Gachyi Land on Polygon shields our community of high gas fees and allows a lot of our onchain gamification features to be used at a very low cost.
These are the playable characters for our P2E MMORPG. Each slime comes with different statistics that are randomly generated upon purchase. Players will have the opportunity to re-roll their characters up to 5 times.
Instead of fighting slimes like in any other games, players will be fighting with their slimes or offspring slimes.
Facebook: https://www.facebook.com/Gachyi-Land-275279670982071
I believe Polygon to be the go-to platform for NFT gaming related projects given its capabilities and interoperability, as well as its thriving ecosystem in the NFT space.
Lastly and potentially most importantly, you will be able to stake your GooGoo for a set period of time to receive rewards that are required for breeding in the future.
Website: https://gachyiland.com/
Q. Gachyi Land Lore and the Gachyi Goddess, we want to know more!
Each slime possesses the ability to reproduce, also known as splicing. When 2 slimes splice, the offspring slimes can become dual-class characters depending on their parents' disciplines.
Q. What trends do you see developing in this industry?
Q. What can you tell us about your first NFT drop, the Goo Goo Series?
Telegram: https://t.me/GachyiLand
Essentially, Goo Goo owners represent the VIP and status symbol in Gachyi Land.
Q. Why did you decide to deploy on Polygon?Our second NFT drop, Slime Tales series, revolves around a combative slime race that has trained themselves in 5 different disciplines:
Q. Run us through the Slime Tales game.
May, Founder and Mastermind behind Gachyi Land. I create the concepts and designs throughout the Gachyi Land ecosystem. I also designed the first NFT line for Gachyi Land myself, which is called the Goo Goos. I also lead the general and marketing operations, whilst my other partners lead the tech and gamification aspects of Gachyi Land.
Thief
Warrior
Mage
Priest
Slime Lord
We have built rich utility into our Goo Goos, which includes exclusive access to all pre-sales and free minting events. In addition, Goo Goos holder will also receive increased drop rate, social experience gain, as well as a ZuZu mount and 1 exclusive in-game skin in our rpg.
Virtual currency is not legal tender, is not backed by the government, and accounts and value balances are not subject to consumer protections. TheBitcoinNews.com holds several Cryptocurrencies, and this information does NOT constitute investment advice or an offer to invest.
Get the latest news and updates about Gachyi Land here:
Twitter: https://twitter.com/GachyiLand
With blockchain, the scalability of the gacha model is significantly enhanced because of smart contract capabilities and publicly recorded proof of ownership.
Discord: https://discord.gg/pPWAC888kC
There is also a single hidden trait that is currently kept confidential in our whitepaper, but those who managed to mint a Goo Goo with the said hidden trait will have even more exclusive benefit in our ecosystem. More details will be released after public sale on 2 December 2021.
Everything on this website can be seen as Advertisment and most comes from Press Releases, TheBitcoinNews.com is is not responsible for any of the content of or from external sites and feeds. Sponsored posts are always flagged as this, guest posts, guest articles and PRs are most time but NOT always flagged as this. Expert opinions and Price predictions are not supported by us and comes up from 3th part websites.
I was exposed to blockchain and crypto projects while working as a lawyer. I saw how vast the potential of NFT is, as well as the positive impact NFT games have created for the community, which inspired me to create Gachyi Land.
Gachyi Land was created by the Gachyi Goddess, who wished for a world to exist where all races and species throughout the multiverse could live together peacefully. To do this, she needed to locate the apex of the multiverse where all universes connected, thus she set out on her journey. Eons went by, the Gachyi Goddess was exhausted from her search and was finally consumed by the fossilisation process. But as the last piece of her body fossilised, an anomaly occurred where gachapon machines materialised on Gachyi Land to capture creatures from other universes. In order to save those creatures, Goo Goos tried to pay the toll but has proved to be a challenge feat. Thus, the Goo Goos have reached out to everyone to help release creatures from their encapsulated prisons.
The first gacha-launchpad ecosystem has launched, to the delight of Gacha gaming fans. Ticking all the right buzzwords like 'Play-to-Earn' and 'NFT', Gachyi Land is a utility-centric NFT ecosystem of mini-party games and MMORPG. We get the lowdown on what to expect from its founder, May.
Instagram: https://www.instagram.com/gachyi.land/
TheBitcoinNews.com – Bitcoin News source since June 2011 –
Gacha mechanics are commonly seen in a lot of popular video games, whether it be the re-roll feature (a.k.a redraw gacha) in dungeons & dragons games or consecutive gacha in mmorpg. But the ultimate source of my inspiration for creating this gacha-launchpad is the gachapon machines that are extremely popular in Japan. I believe there is a community out there, including myself, that enjoys the sense of achievement of completing a full set of our desired collectibles after countless times of playing with the gachapon machines.
Q. How did you get into the NFT gaming space? And why the world of Gacha?
Gaming is the largest up and coming trend without a doubt. NFTs are perfect for gaming and will certainly be the norm for gamers in 24 to 36 months. Wouldn't you rather play a game where you can sell your hard earned assets? What about making a living from playing games, life is all about supply and demand so there's no reason why gamers can't turn playing games and selling in game resources as a full time job.
Advertise with us : Advertise
Our game will be a real time RPG where players team up to explore, grind levels, and kill bosses to earn rewards and generate resources.
Our first NFT drop, the Goo Goo series, is limited to 500 ever to be minted.
The traits of Goo Goos have been randomly generated by the Gachyi Goddess, giving each one a unique appearance and characteristics.
Q. Please introduce yourself and what you do at Gachyi Land, thanks.
We believe its scarcity, on top of its abundant utility throughout Gachyi Land ecosystem, makes it incredibly valuable especially for NFT gamers who are looking to gain exclusive in-game boosts for our future rpg.
Send bulk sms with Bitcoin and don't worry If your link gets reported. We are constantly monitoring your links and We'll pause your campaigns if any issue…