Google Finance Now Lists Bitcoin First Ahead Of Top Forex Currencies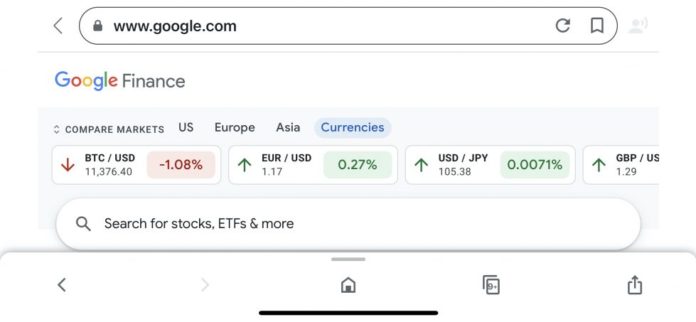 Advertisment
Bitcoin Against Top Forex Currency Trading Pairs With The Euro, Dollar, & Pound | Source: BTCUSD on TradingView.com
How The Cryptocurrency's Market Cap Stacks Up Against Top Fiat Capitalization
Top 10 Fiat Currency Market Cap Versus Bitcoin | Source: FiatMarketCap.com
Bitcoin Takes Over Google Finance List of Currencies: Dollar, Euro, Pound, and Yen
However, at some point, Bitcoin quietly moved to the front of the line. Is this due to Google's search engine algorithm giving visibility to what's in the most demand? Or is this simply a sign that the cryptocurrency is deserving of more visibility in general and is yet another way the asset is becoming more well respected globally?
Because of the relationship with USD, the crypto asset's price patterns also similarly match up with these top forex currencies, and not just the S&P 500 as is often pointed to in the crypto community.
Bitcoin is maturing, suddenly becoming a respected asset that institutions, hedge funds, and even corporations are considering. The cryptocurrency shares many similarities with gold, giving it the attributes of a commodity, yet works equally as well as a currency. Due to this, Google Finance lists Bitcoin alongside of a batch of top forex currency trading pairs.
Featured image from Deposit Photos, Charts from TradingView.com, Google Finance, FiatMarketCap
RELATED READING | HOW THE DOLLAR'S FALL FROM THE TOP COULD FUEL THE FUTURE OF BITCOIN
But the cryptocurrency can also stand next to top nation's currencies and has been positioned to one day replace the dollars as the global reserve asset. Google Finance puts Bitcoin next to a basket of other highly traded forex currency pairs, such as EURUSD, JPYUSD, and GBPUSD.
Bitcoin was designed by Satoshi Nakamoto to share several features with cash, while also behaving like a commodity due to its digital, hard-coded scarcity. Only 21 million BTC will ever exist, making it a hedge against the dollar just like gold and other precious metals.
These "major" forex currency pairs dominate the trading volume in the forex market, but it is now Bitcoin – more specifically BTCUSD – that leads Google Finance's page of "Currencies."
The first-ever cryptocurrency is now first in line ahead of the dollar, the euro, the pound, and the yen. And while that may seem unusual, Bitcoins, euros, yen, and pounds all trade against the dollar in one-half of a trading pair. They also all trade against one another, but because the dollar is the global reserve currency, its base rate is what matters the most.
RELATED READING | BITCOIN HALVING GOES PARABOLIC ON GOOGLE TRENDS, JUST AS PRICE EXPLODES
Bitcoin is far down the list, ranked at just 35 compared to other national fiat market caps. The major difference, however, is that any of these fiat currency supplies can be increased at a whim, while there will only ever be 21 million BTC to ever exist.
Send bulk sms with Bitcoin and don't worry If your link gets reported. We are constantly monitoring your links and We'll pause your campaigns if any issue…