Hopes of Last-Ditch Stimulus Prompt Bitcoin to Target $11K This Week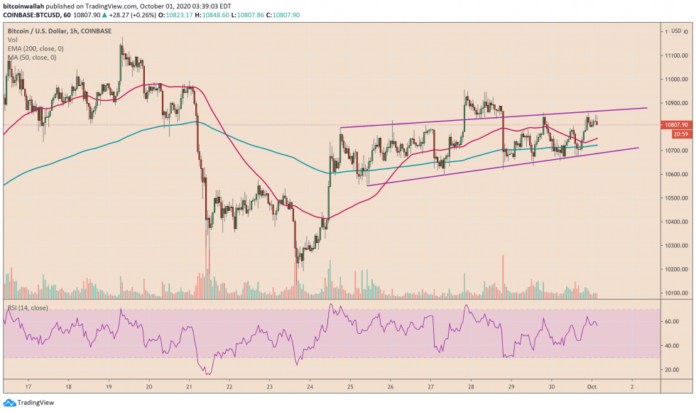 Advertisment
BTC/USD is trading upwards towards ,000 in a choppy session Thursday. Source: TradingView.com
"There's a bit of relief that the dollar rally has, for the most part, ended and it seems many investors are more so focused on the headwinds ahead of the global economic recovery."
,000 serves as a psychological resistance before the next Bitcoin bull run begins.
Both gold and Bitcoin have risen sharply this year as governments and central banks worldwide rolled out unprecedented stimulus packages to revive coronavirus-hit economies. Investors considered the two as their hedge against the potential, long-term currency debasement.
"Monthly close looks fine for September (considering it was a down month with 15% pullback). Overall, the structure held & closed above ,760 with a wick of almost 10% with buyers stepping-in at sub k IMO, expecting a green month for markets in October before election."
Risk Appetite Back
Bitcoin was firm in the early Thursday trading session as new signs of progress emerged in negotiations over the second coronavirus stimulus.
Bitcoinist.com is author of this content, TheBitcoinNews.com is is not responsible for the content of external sites.
Looks like the politicians got the phone call from their masters on Wall Street. Time for more stimulus to pump the markets! This will likely be the make of break for markets in October. #bitcoin #crypto https://t.co/X4BQAzQ035
On the other hand, Democratic House speaker Nanci Pelosi responded by delaying the vote on their own .2 trillion stimulus bill. She agreed to dwell further into the Republicans' proposition, showing one of the first positive steps in months towards finalizing the relief package.
"Today, Secretary Mnuchin and I had an extensive conversation and we found areas where we are seeking further clarification," Ms. Pelosi said on Wednesday. "Our conversation will continue."
Bitcoin also rose as sentiment for the US dollar grew weaker. Edward Moya, a senior market analyst at OANDA in New York, used the gold recovery on Wednesday as context to explain the said shift from cash markets, saying:
That further explains why a second stimulus package by the US government could lift Bitcoin further up.
The Donald Trump administration agreed to increase the size of the aid to .5 trillion – a trillion-dollar higher than their previous proposal. Steven Mnuchin, the US Treasury Secretary, confirmed in an interview with CNBC that a bipartisan group, known as the "problem solvers caucus," backed the Republicans' proposal.
Bitcoin Technical Setup
The Trump government's offer still stands short of the Democrats' proposal, which includes new direct payments to American households, further unemployment benefits, and aid to small and medium scale businesses battered by the coronavirus pandemic.
Still, the gap between what Republicans are offering and what the Democrats are expecting have narrowed down vastly. That has increased investors' risk appetite as US stock and gold futures hint to open in a positive area this Thursday. Bitcoin, too, is maintaining itself above crucial support levels.
A push led by optimistic fundamentals expects to take the Bitcoin price to ,000 by the end of this week.
Josh Rager, the founder of BlackRoots.com, highlighted the cryptocurrency for its recent ability to hold above ,800, noting that the level could allow BTC/USD to retest higher levels this October. Excerpts:
— Lark Davis (@TheCryptoLark) September 25, 2020
Send bulk sms with Bitcoin and don't worry If your link gets reported. We are constantly monitoring your links and We'll pause your campaigns if any issue…