It's "Hard to be Bearish" on Ethereum as Key Supports Hold: Analyst
Advertisment
Ethereum has dropped lower over the past 24 hours after peaking just shy of $400.
The cryptocurrency currently trades at $382 and is down a mere 0.5% in the past 24 hours.
Despite the drop from the local highs, analysts remain bullish on the asset.
One analyst says that he finds it hard "not to be bullish" as $360-370 holds.
$360-370 has acted as an important horizontal level for the coin over recent weeks.
Namely, it marked the highs of two key rallies in late September, which resulted in reversals towards $330.
Ethereum Set to Continue Higher, Analysts Say
Despite this rejection just shy of the pivotal 0 resistance, analysts remain optimistic. One crypto-asset trader recently noted that with the cryptocurrency holding above critical supports, price action is healthy
Ethereum has slipped lower over the past few hours from its local highs around 5. The coin currently trades for 2, not too far from those highs but still down by a few percent.
Tyler Winklevoss, a co-founder of Gemini, recently said that with the U.S. government pursuing another stimulus package, Bitcoin is making increasing sense:
Chart of ETH's price action over the past few weeks (since end of July) with analysis by crypto trader Cactus (@TheCryptoCactus on Twitter)
Source: ETHUSD from TradingView.com
"Think the market is looking to make a full recovery if price get flip 0 into support but that said current price action is looking very bullish and its great to have flipped 0. The chance of retesting 0 gets less and less each day we hold above these levels… $ETH / USD Still finding it hard not to be bullish… Price would have to break below 0 for any real shift in momentum to the downside, healthy looking PA."
One trader noted that as long as Ethereum holds the prices in the vicinity of 0, it is set to double towards 0 in the coming months. 0 has long been an important level for ETH, having acted as a launchpad for the coin in 2017 and in the middle of 2018 during a dead cat bounce.
Chart of ETH's price action over the past few years with a Renko candle analysis by crypto trader Cold Blooded Shiller (ColdBloodShill on Twitter).
Source: ETHUSD from TradingView.com
All Eyes on Bitcoin
Featured Image from Shutterstock
Price tags: ethusd, ethbtc
Charts from TradingView.com
It's "Hard to be Bearish" on Ethereum as Key Supports Hold: Analyst
Analysts expect further stimulus to suppress the U.S. dollar, which should boost alternative assets like gold and Bitcoin.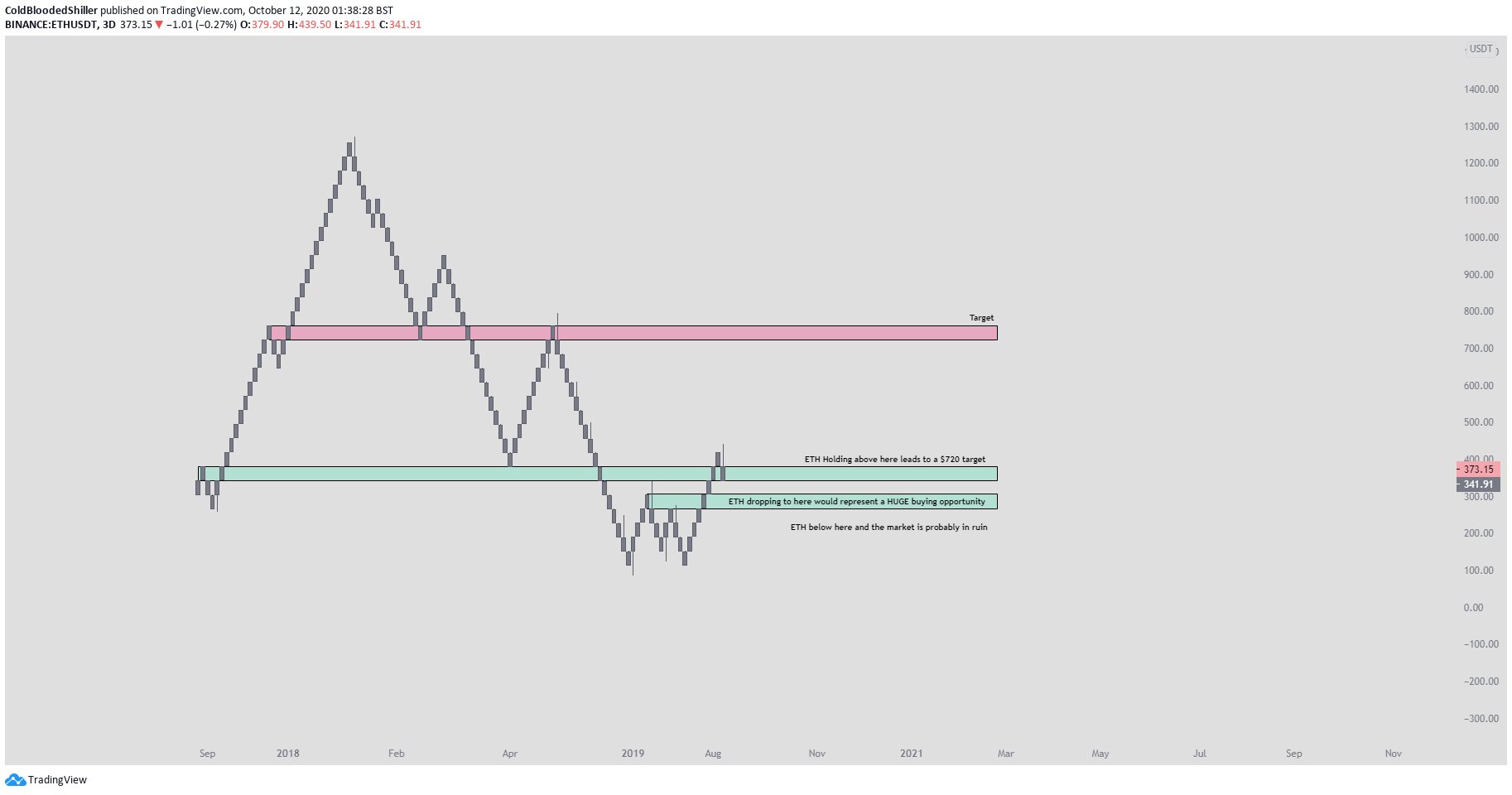 "Stonks love nothing more than wen the money printer goes brrrr like an A-10 warthog. It's full-fledged addiction that's not going to end until it has to. When that will happen is hard to predict, but what's certain is that #Bitcoin will b your only refuge."
Send bulk sms with Bitcoin and don't worry If your link gets reported. We are constantly monitoring your links and We'll pause your campaigns if any issue…