Last Chance to Get Staked $750+ Million HEX Payout November 19th, 2020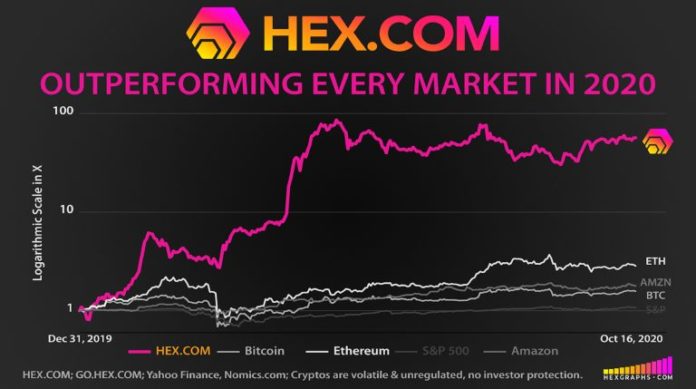 Advertisment
2-Minutes of Rare Insight into BPD from Richard Heart
HEX is Designed to Outperform And It's Working
This uniquely qualifies HEX with the property of having zero expectations of profit from the future work of others: HEX is a complete product and performs as designed.
HEX.COM – The First High Interest Blockchain Certificate of Deposit – has outperformed every asset in 2020. Ranked Top 20 by Nomics (BTI verified #1 in Market Data Integrity), over 0 Million HEX are in active stakes paying a variable 28% APY. The average stake length is 5 years; the longest stakes are 15 years. This kind of verifiable onchain commitment seen in HEX is unprecedented in cryptocurrency.
HEX addresses a larger market than Bitcoin with superior product fit. The United States and China have over .2 Trillion in time deposits. This is a 50% larger market than the peer-to-peer currency market Bitcoin was designed to address where printed cash totals about Trillion.
With growth and performance attracting more and more investors to HEX, there's been no shortage of individuals describing their experiences on Cryptocanary — kind of like a Yelp for crypto.
Cryptocurrencies Are The Highest Appreciating
Asset Class in the History of Mankind
Reading these reviews — many describing personal experiences investing and trading over the years — is a reminder that while one cannot go back and change the beginning, many realize they can start where they are and change the ending. This applies to many areas; in cryptocurrency many have looked to HEX, and with continued performance many more will.
As a result, for those investors who do discover HEX at this time, it may mean the difference between participating in the early adopter stage versus the late majority.
Taking Security Seriously
HEX is a Fully Audited, Complete Product
Bitcoin's inflation model for coin distribution went from 0 coins to 18 million across 10 years; HEX efficiently expedites this, completing its entire high inflation distribution on November 19th. Immediately following this, HEX goes right into its low inflation phase with a maximum of 3.69%. Bitcoin took 10 years across multiple halvenings to accomplish the same.
Imagine if Bitcoin paid its holders with more Bitcoin for committing to not sell for time periods of their choosing: a time deposit. Now imagine if committing to longer time periods paid even better, and when others break their commitments those who keep theirs receive even more Bitcoin. What would overall net buying and selling activity look like? HEX does all of this, plus a bit more.
Pictured above is a small sampling. Each review is unique and gives a real flavor for each individual's experience using HEX. Not every review is 5-stars, but readers will find a large majority are. This article encourages its readers to have some fun exploring things.
News and Updates, Follow on Twitter: @HEXcrypo

Buying and Staking HEX is Easy

10/15/2020 Interview, @Hardforking
The Big Pay Day
Last Chance to Get Staked
The top blockchain data surveillance firm in the world, Blockchain Transparency Institute, grades CoinMarketCap with C's across the board; sites like Nomics, where HEX is ranked correctly, receive BTI Verified grades of all A's. Also of note, it is curious many (most) of the largest personalities and social influencers in cryptocurrency have so far been reluctant to openly discuss HEX despite its design's strong emphasis on security and verifiable onchain transparency.
10 Years for Bitcoin to Do it
HEX Does it November 19th

Inception
(The Greatest Reward Many Will Overlook)
This is a sponsored post. Learn how to reach our audience here. Read disclaimer below.
Design intention is never a promise, but seeing HEX perform as designed appears indeed very promising: HEX's price has gone up 92x vs Bitcoin, 79x vs Ethereum, and 115x vs USD. It did all of this in just 129 days. By design, HEX enriches The Staker Class with a highly attractive APY plus additional rewards.

User Experience: What Others Are Saying
Early adopters of HEX will celebrate a windfall inflation distribution of approximately 183 Billion HEX, worth more than 0 Million, credited to active stakes on November 19th, 2020. This one-time event is called The Big Pay Day (BPD), and the only eligibility requirement is a stake be active before BPD and end after it. To The Staker Class this HEX will appear like any other daily interest credited to your stakes, but substantially larger.
Having more shares in HEX is a lot like stacking up more Bitcoin miners for more hashrate without having to own the miners or pay the electricity bill. The more shares you have, the more HEX minting power you have. The similarities are remarkable: read this full thread on HEX by Richard Heart to learn more.
CoinMarketCap. While HEX might be the first coin to ever have two independent security audits, due to apparent gatekeeping practices by the ever-popular CoinMarketCap HEX has yet to be ranked correctly there. In fact, CoinMarketCap has suspiciously pegged HEX at Rank 201 – appearing buried on page 3. This not only makes it extremely difficult for new investors to discover HEX, but also calls data reporting practices into question.
The visionary product design of HEX utilizes shares with real — quantifiable and fully audited — Earnings Per Share (EPS) to deliver a true Legacy Finance finished product.
Why HEX Might Continue Outperforming Long After The Big Pay Day
Creating a robust economic moat, HEX's contract code is all rights reserved with 3 separate audits by 2 of the top contract auditors in the world. Taking such care in attention to detail has resulted in HEX performing precisely as designed with 100% uptime.
"HEX was delayed almost a year to get security right, which is why it has 3 audits; 2 security audits, 1 economics audit. HEX has no admin keys. No off switch. No pause switch. It's fully autonomous.
If HEX.COM goes offline, I die, the system continues to work fine. It is unstoppable: the code is on the blockchain. You run it. You mint your own rewards. That's it." –Richard Heart, HEX Inventor
Market Leaders Share a Similar Path
Bitcoin's (BTC) price did 2,000,000x from For More Information Visit: HEX.COM
HEX is a finished product designed to richly reward stakers in ways no cryptocurrency ever has. The returns enjoyed by The Staker Class incentivize net positive buying and staking activity versus selling. Additionally, when HEX is staked those coins are thus removed from the circulating supply – another key design feature to positively influence demand pressures on supply.
The Top 2 cryptocurrencies experienced the worst verbal abuse in their early days. It was common to see Bitcoin Scam or Ethereum Scam voiced ignorantly and unintelligently. History often rhymes, and one cannot help but note HEX Scam being voiced by many large influencers who have never researched it. Ironically, much the same as Bitcoin and Ethereum's early days, the only scam appears to be the false labels precluding many from investing in a bona fide product at opportune times.
On November 19th HEX's Big Pay Day highlights the strong finish to an exciting yearlong launch phase, crediting active stakes with 183 Billion HEX worth over 0 Million dollars. Read more about this windfall event below. All figures herein cited at the time of writing.
Setting a new standard, HEX distinguished itself from the DeFi pack by having the advantage of being a completed product – not project – before going live.

HEX was invented by serial entrepreneur and early Bitcoin adopter, Mr. Richard Heart. Today Mr. Heart is a well-versed proponent of Ethereum and stimulating thought leader champion across a panoply of subject matter. With his inspiring stage presence and candidly streamed interviews, Mr. Heart's audiences always pack a very full house.
When there's an elephant in the room, introduce them. -Randy Pausch, Last Lecture
Bitcoin.com is author of this content, TheBitcoinNews.com is is not responsible for the content of external sites.
---
The First Onchain Truth Engine: Penalties traditional banks would keep for not honoring the terms of the time deposit – HEX pays directly to The Staker Class.
The post Last Chance to Get Staked 0+ Million HEX Payout November 19th, 2020 appeared first on Bitcoin News.
Send bulk sms with Bitcoin and don't worry If your link gets reported. We are constantly monitoring your links and We'll pause your campaigns if any issue…