Max Keiser Reports Bitcoin "Relative Strength" Is Good As Gold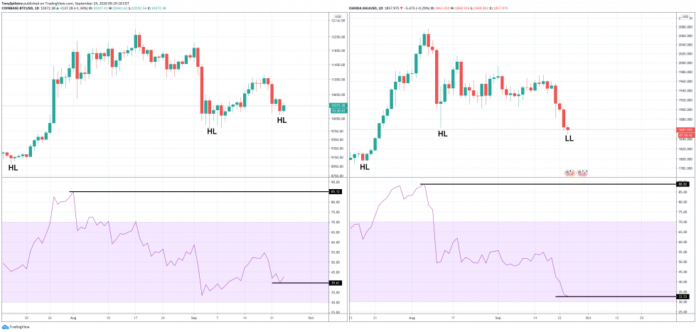 Advertisment
Is Keiser correct, or is the Bitcoin backer simply wearing rose-colored glasses when it comes to the cryptocurrency?
Keiser, from The Keiser Report, is a staunch Bitcoin believer and one of its most outspoken supporters. He regularly comments on his beliefs related to the cryptocurrency industry and the rest of the world of finance.
Max Keiser Says Crypto Is Showing Solid "Relative Strength" Versus Gold
BTCUSD Versus XAUUSD Relative Strength Index Comparison Chart | Source: TradingView
The RSI, for short, can signal when an asset is oversold or overbought. According to the charts below, Bitcoin has recovered from oversold conditions far more sharply than gold has. Gold also reached significantly more overbought and oversold conditions that Bitcoin did.
The fall has started but most assets have taken a pause. Bitcoin is thus far holding above ,000, while the safe haven asset it is said to share similarities with has struggled comparatively.
#Bitcoin showing good relative strength vs Gold during this pullback as $USD strength continues to frustrate bulls
Keiser, expects Bitcoin to ultimately reach prices of 0,000 or more, but is he right about the crypto asset holding stronger in current market conditions compared to the precious metal?
This year has been a wild rollercoaster ride across all markets. After an enormous drop on Black Thursday, markets have been steadily climbing higher, but have recently started to slow and chug along. What typically comes next in any form of the popular amusement park ride, would be the final shocking drop before the ride starts again.
Bitcoin price may have snapped back below ,000 and is struggling to maintain the all-important support level of ,000, however, its showing more "relative strength" than gold currently. That statement is from outspoken crypto bull Max Keiser, who in the past has predicted the leading cryptocurrency by market cap will reach prices of 0,000 or more.
— Max Keiser (@maxkeiser) September 23, 2020
Relative Strength Index Proves Bitcoin Is Beating The Precious Metal At Its Own Game
Charts don't lie, and while Keiser is undeniably a Bitcoin bull through and through, he's 100% correct about the crypto asset holding strong a lot better than gold, the original safe haven asset.
The Relative Strength Index is a trend strength measuring tool created by J. Welles Wilder Jr. Wilder also created several other of the most popular trading tools used today, including the Parabolic SAR, and Average Directional Index.
Both Bitcoin and gold have since pulled back significantly from local 2020 highs, but one asset is showing more "relative strength" than the other, according to Max Keiser.
Thanks to technical analysis, Keiser's theory can be put to the test. Keiser claims Bitcoin's "relative strength" is good compared to gold's, and he is right. Featured image from DepositPhotos, Charts from TradingView
RELATED READING | BITCOIN AND GOLD CORRELATION LEADS TO MATCHING CUP AND HANDLE PATTERNS
RELATED READING | GOING DIGITAL: BITCOIN BEATS GOLD AND SILVER IN YEAR-TO-DATE RETURNS
Send bulk sms with Bitcoin and don't worry If your link gets reported. We are constantly monitoring your links and We'll pause your campaigns if any issue…