Stobox Offers a Better Way To Make Money in Crypto Than DeFi. Invest Like the Rich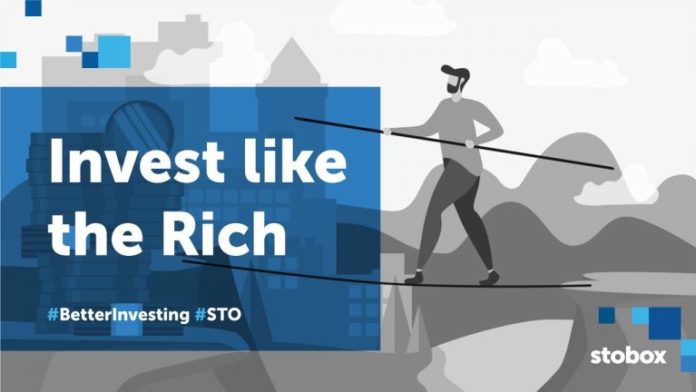 Advertisment
The real trick is finding the golden middle – high-yield-moderate-risk investments – they provide great legal protection to investors in combination with very solid returns.
Or protected so far. No door can remain closed forever. In the last 2 years, a powerful financial technology trend has been building up. An award-winning company Stobox has been building the way for common investors to invest like the rich.
PRESS RELEASE. DeFi is a risky investment. It can deliver huge returns – but also you can waste all your money. Objectively, many DeFi projects are a scam, and if they give dishonest promises or steal your money you have no way to get your money back or find the responsible persons. For this reason, the odds of becoming rich with investing in DeFi are against you.
The technology is called a "security token offering". An example of its amazing applications is that it can reduce the investment threshold in a venture fund from ,000,000 to only 0. A great example of such investment is Igniter 100 STO, organized by Stobox. Stobox has its own token STBU issued as well and listed on Uniswap, Probit and Coinsbit.
On the other hand, safe investing like government bonds or a stock market is also not very interesting. The 3% annual yield is interesting only to pensions funds and old-fashioned investors.
This is a press release. Readers should do their own due diligence before taking any actions related to the promoted company or any of its affiliates or services. Bitcoin.com is not responsible, directly or indirectly, for any damage or loss caused or alleged to be caused by or in connection with the use of or reliance on any content, goods or services mentioned in the press release.
Bitcoin.com is author of this content, TheBitcoinNews.com is is not responsible for the content of external sites.
Here we have a problem – you have to invest like the rich to become rich – but for that you have to become rich in the first place. This is how the existing elite protects their wealth.
However, these investments are accessible almost exclusively to those who are already rich – large institutions and high-net-worth individuals. These are private industrial enterprises in developing countries, early-stage venture funds, etc. Other stuff, like DeFi or stock market are only phantoms so that common people believe they have the chance.
The post Stobox Offers a Better Way To Make Money in Crypto Than DeFi. Invest Like the Rich appeared first on Bitcoin News.
Supporting Link
https://www.stobox.io/
Press Contact Email Address
[email protected]
---
To become rich you have to invest like the rich. Stobox and security tokens provide you the unique access to this opportunity.
A great way to get more knowledge about STOs, how to pick right projects, is to visit educational virtual events, such as an upcoming Digital Assets Investment Conference. It will gather great speakers from London Stock Exchange, Nasdaq and other elite institutions to share a professional perspective on security tokens.
Such investments can often outperform stock market 2x on average. This adds up to 16x over the stock market in four years, while the market itself grows.
Send bulk sms with Bitcoin and don't worry If your link gets reported. We are constantly monitoring your links and We'll pause your campaigns if any issue…