The $750 Million Pre-Halloween Bitcoin Options Expiry Has Started to Spook Traders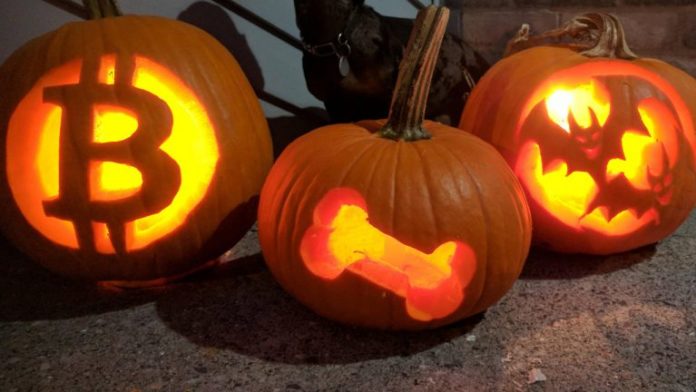 Advertisment
Deribit published a chart that shows the current term structure of Deribit BTC options. "Due to the time value of options, the term structure tends to be upward sloping," the Deribit report notes.
The post The 0 Million Pre-Halloween Bitcoin Options Expiry Has Started to Spook Traders appeared first on Bitcoin News.
Similarly to the upcoming pre-Halloween bitcoin and ethereum options expiry, data from Deribit had shown the exchange held 67k worth (77%) of the 87k September 25 contracts. That day historical BTC price statistics show bitcoin opened on the 25th at ,248 and closed at a high of ,771 later in the afternoon. Options markets had no effect on spot market prices going forward. Bitcoin markets did not end up being turbulent at all after the large expiry and ended up rising 24.4% since then.


According to Deribit's crypto derivatives channel on Telegram, a recent signal on October 26, 2020, explained that there's currently 61k BTC options set to expire on October 30 of which 40k is held at Deribit. Additionally, 190k ETH options ( million) will expire on the same day of which 164k is held at Deribit.
Of course, speculators have put a lot of weight into crypto futures and options markets and lots of times these secondary markets do nothing. For instance, traders and analysts often talk about CME gaps that never fill and big options expiries that are extremely boring. For instance, crypto traders expected lots of volatility after speculating on more than 87k worth of bitcoin options that expired on September 25.
What do you think about the 0M + bitcoin options expiry on October 30? Let us know what you think about this subject in the comments section below.


Bitcoin.com is author of this content, TheBitcoinNews.com is is not responsible for the content of external sites.
Even though cryptocurrency traders have been exuberant over the price rise, a number of analysts are focused on the large bitcoin and ethereum options expiries set to end before Halloween. Data from Skew.com shows 0 million in Bitcoin options is set to expire and prices could get volatile.
Deribit's crypto derivatives signal channel poses the question further:
On Tuesday, Skew tweeted about Deribit's October expiry and said that dealers are likely long. "On Deribit for October expiry, 12k, 12.5k, 13k, and 14k calls are all open for 2k+ bitcoin options," the researchers tweeted. The largest strike is the 9k put with more than 5k options open. Judging by where the October vol is marked, sub 40, it's likely dealers are long against overwriters."
This month we have seen a significant flipping of the [one] month skew and Bitcoin testing yearly highs. The 30 Oct '20 expiry comes just a few days before the eagerly watched US election. With over 7% of the expiry open interest fixated on the 13,000 strike, could any early unexpected US election news or movement in the partially correlated stock market trigger Bitcoin to cross the strike and trigger a run on volatility?
"60k [in] bitcoin options are expiring this week, 0mln+ notional," Skew tweeted. The major expiry not only coincided with the price rise but also the 12th year anniversary of the Bitcoin white paper will be celebrated the very next day. In addition to Skew's statistics, the exchange holding the most bitcoin and ethereum options contracts, Deribit, published an article about the "trading uncertainty" tethered to the expiry on October 30.
"However, the humps demonstrate an expected sharp price movement in a particular period of time. Similar to the traditional markets, the BTC market has priced in potential volatility in the election week of October 30 until November 6. The increased volatility is expected to continue at least until the end of Q4," the crypto derivatives exchange added.
The price of bitcoin (BTC) touched an all-time 2020 high at ,490 on Tuesday across global exchanges. The price spiked when the news leaked about Southeast Asia's largest bank DBS launching a digital asset exchange.
Despite the major price climb this month, bitcoin and ethereum markets are expected to be volatile at the end of the week, as a great number of options are set to expire on October 30. The professional data and analytics firm Skew.com discussed the situation on Twitter on October 25.
Send bulk sms with Bitcoin and don't worry If your link gets reported. We are constantly monitoring your links and We'll pause your campaigns if any issue…