This Unusual Bitcoin Adoption Metric Sets New ATH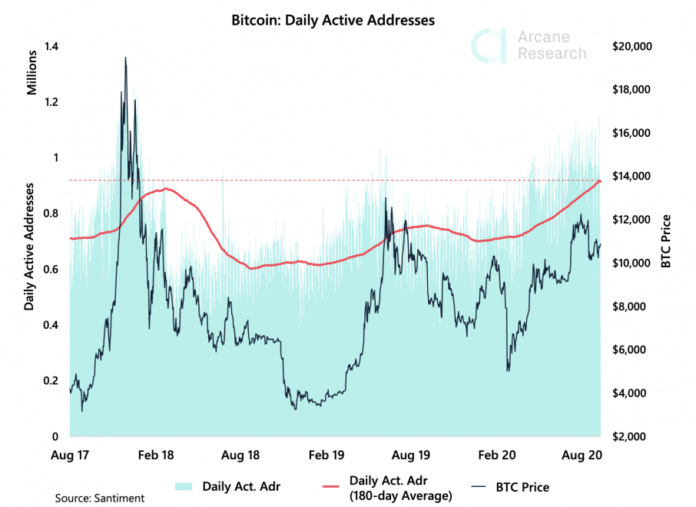 Advertisment
According to the daily active BTC addresses moving their crypto assets to and from, the 180-day rolling moving average has now set a new all-time high. Individual daily activity still hasn't outpaced the 2017 peak, but its very close.
And with the metrics turning its trajectory upward, it could suggest that the cryptocurrency's valuation will soon follow. Here's why.
Bullish Bitcoin Price Action Potentially Fueled By Underlying Network Adoption
On the way up, it has been slow, and steady, with several pauses for consolidation before continuation. Only recently has Bitcoin price began to pullback, turning bullish predictions back into calls for new lows.
But even the corrections on the way up have been fairly healthy, with very limited downside in the leading cryptocurrency by market cap. And it could all be due to how health the network's growth is, and how steadily adoption is climbing. It has even taken a key adoption metric to a new record.
RELATED READING | EXPERT EXPECTS BITCOIN "DECOUPLING" FROM STOCKS BUT NOT FOR THE REASON YOU THINK
It culminated with a deep crash on Black Thursday but has been on an upward climb since. A retest of the asset's bear market bottom appears to have sealed the deal that bears can't take Bitcoin price lower, and instead, bulls have been in control.
BTCUSD Daily Price Action As Healthy As Network Adoption | Source: TradingView
RELATED READING | MAX KEISER REPORTS BITCOIN "RELATIVE STRENGTH" IS GOOD AS GOLD
180-Day Moving Average Of Active BTC Addresses Sets New Record High
Bitcoin price action in 2020 may not have been as bullish as it was in 2019, but its been a heck of a lot healthier. After rocketing from the low ,000 range to high ,000s, the crypto asset required a cool off phase that has taken months.
So long as the network itself is active and growing, the value of the asset will grow in time as well. And when it does, like the 180-day moving average setting a new record, all-time highs in price may not be too far off in the distance.
The 2017 peak, was also an unhealthy price spike, resulting in a three-year bear market. Although BTC addresses were higher then, there's nowhere near the same level of FOMO or interest in the crypto space, yet numbers are trending nearly as high in terms of network activity.
Bitcoin price is as healthy as ever, remaining over ,000 for its longest stretch yet. Supporting that healthy price action could be an adoption measuring metric reaching an all-time high record.


180-Day Moving Average: Daily Active BTC Addresses | Source: Santiment
Featured image from DepositPhotos, Charts from TradingView and Arcane Research
Bitcoinist.com is author of this content, TheBitcoinNews.com is is not responsible for the content of external sites.
Send bulk sms with Bitcoin and don't worry If your link gets reported. We are constantly monitoring your links and We'll pause your campaigns if any issue…