Traders Express Caution Regarding Bitcoin as Election Day Arrives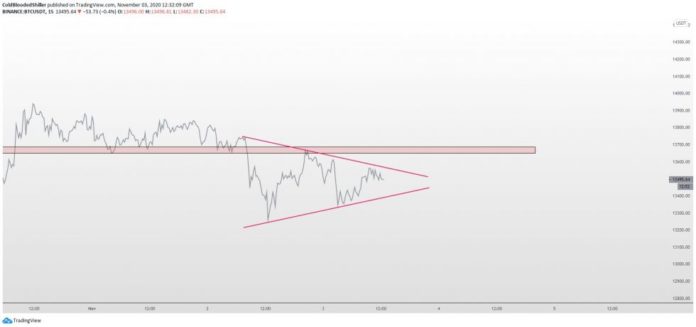 Advertisment
Traders have long been looking towards election day as a potential catalyst for Bitcoin volatility that helps shapes the cryptocurrency's future trend
That day is now here, and BTC is actually seeing some positive price action so far this morning
Bulls are in the process of pushing the crypto up towards its $13,800 resistance that has held strong throughout the past few weeks
One trader is not expecting this momentum to last for too much longer, as he is noting that a move towards the $11,000 region could be in the cards
He notes that the descent to this level is likely to begin sometime within the coming few days
Many investors are awaiting the results of the election before flipping long on the crypto.
One analyst is expecting downside. He believes that the next trend could send Bitcoin towards the ,000 region before it establishes any long-term support and rallies.
Bitcoin is seeing some strong price action heading into election day, with bulls attempting to retest the resistance the crypto has established around ,800.
Bitcoin Sees Positive Trading as Bulls Target Resistance
Although its latest monthly candle closed above this level, it is important to note that BTC has faced multiple swift rejections here that have made it incredibly unclear where it may trend in the near-term.
While explaining where he thinks Bitcoin will trend in the coming days, one analyst stated that Bitcoin's strong resistance would likely force it down towards ,500 before it can find serious support.
Featured image from Unsplash.
Charts from TradingView.
"Resistance held yesterday on BTC and I added to the short. It's a great set up because the invalidation is so clear. Price action starting to consolidate now, expecting this to start moving soon. More than happy to hedge equally on a break upwards," he said, in part, while pointing to the below chart.
At the time of writing, Bitcoin is trading up just under 1% at its current price of ,700. This is around where it has been trading for the past couple of hours.
It has yet to retest ,800, but this level will undoubtedly spark some intense volatility if it is broken above or catalyzes another rejection.
Image Courtesy of Cold Blooded Shiller. Source: BTCUSD on TradingView.
Where Bitcoin trends next will likely depend largely on tonight's election results, as many traders believe that one candidate will bolster the macro-economic landscape more than the other.
Send bulk sms with Bitcoin and don't worry If your link gets reported. We are constantly monitoring your links and We'll pause your campaigns if any issue…