Troubles for Bitcoin Grow as Analyst Spots "Potential Death Cross"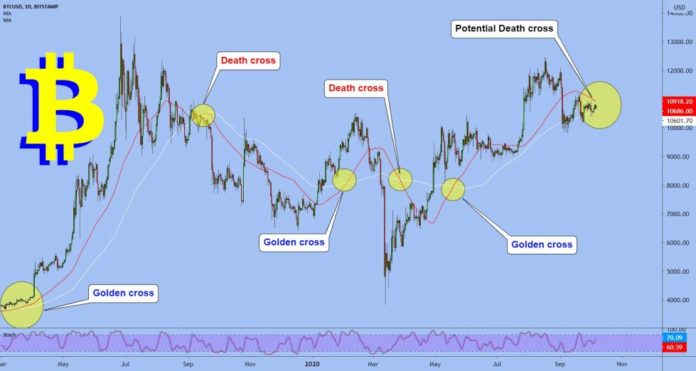 Advertisment
The same scenario is now brewing on the Bitcoin daily chart, wherein the cryptocurrency's 50-day moving average (50-DMA) is itching to drop below its 100-day moving average (100-DMA). If the crossover takes place, then it could leave Bitcoin under further bearish stress.
Analysts believe that the White House would pass a stimulus bill, one way or another. That proves that Bitcoin is heading north in the long run, thanks to a confirmed injection of trillions of dollars into the US economy, coupled with ultralow interest rates and infinite bond-buying policy of the Federal Reserve.
The lack of aid equals a lesser US dollar liquidity. Traders fear that a reduced supply of the greenback would make it more vital in the near-term. As a result, assets that trade against its value would plunge lower. That includes Bitcoin, which now has a record high inverse correlation with the dollar.
Bitcoin will not necessarily continue its downtrend after forming the Death Cross.
Bitcoinist.com is author of this content, TheBitcoinNews.com is is not responsible for the content of external sites.
That Trump Tweet
Bitcoin is on the verge of painting a Death Cross.
US President Donald Trump ended the ongoing bipartisan coronavirus stimulus talks on Tuesday, an abrupt move that jolted Wall Street, commodity, as well as the Bitcoin market.
Bitcoin falls right after Trump's stimulus tweets. Source: TradingView.com, Joseph Young
If one looks at the first chart above, a bearish crossover between 50-DMA and 100DMA lags the price move downwards. BTC/USD first drops lower and its moving averages confirm a Death Cross later. In some cases, the pair confirmed the pattern while it was trading upward (in May 2020).
Analysts at EXCAVO, an automated market maker protocol, spotted the Bitcoin Death Cross first. They wrote in their TradingView analysis that the pattern is signaling "a bearish environment in the period ahead."
A Lagging Bitcoin Indicator, Nevertheless
BTC/USD was trading near ,600 at the time of this writing.
As of this Wednesday, the total distance between the 50DMA and 100DMA is less than 0. Meanwhile, growing downside pressure on Bitcoin from unfavorable macro fundamentals prompts the cryptocurrency to form a 50-100 crossover – at least ahead of November 2020.
The technical chart pattern–which forms after an asset's short-term moving average closes below its long-term moving average–holds credibility for predicting bearish markets. In the stock market crash of 2008, for instance, many investors credited Death Cross for limiting their losses.
"If [Trump] would accept any stimulus, it's just postponing the inevitable: a heavy recession/depression as a bill for terrible decisions made historically," said Michaël van de Poppe, an independent market analyst. "Bitcoin can have a short-term effect on that too, negatively. Long-term bullish."
Bitcoin Death Cross setup, as highlighted by EXCAVO. Source: TradingView.com
"I have instructed my representatives to stop negotiating until after the election when, immediately after I win, we will pass a major Stimulus Bill," he tweeted.
Send bulk sms with Bitcoin and don't worry If your link gets reported. We are constantly monitoring your links and We'll pause your campaigns if any issue…