Venezuela's State-Run 'Defi' Crypto Exchange Goes Live After Maduro's Anti-Blockade Speech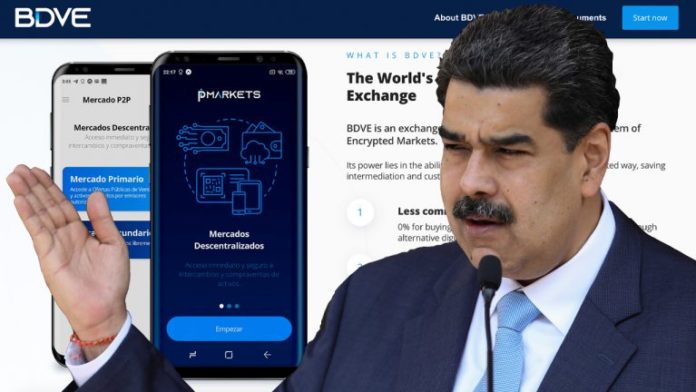 Advertisment
On October 1, news.Bitcoin.com reported on how Maduro's mandate described how cryptocurrencies would be leveraged in both domestic and global trade, in order to bypass the financial rules enforced by the U.S. government.
A loosely translated description of BDVE says:
For quite some time now Venezuela has had to deal with strict economic sanctions. President Nicolás Maduro spoke about these sanctions in a new mandate called the "Anti-blockade Law for National Development and the Guarantee of Human Rights."
Meanwhile, others made fun of the BDVE's use of the word decentralized. "Venezuela launches [a] 'decentralized' exchange…. come on man," another individual sarcastically tweeted about the state-run defi exchange launch. "The exchange, the petro and the mining, it's all controlled by the government… it does NOT get more centralized than that."
The state-run defi exchange was also discussed on social media and crypto-related forums after the BDVE app was launched. A few crypto enthusiasts thought the launch was a "big deal," while others believe that a state-controlled defi exchange is a joke.
Shortly after Maduro's mandate speech, the Venezuelan government released a new 'defi exchange' called BDVE. The exchange is ostensibly built using the Ethereum network and registered users will be able to purchase ERC20s and tokenized traditional assets as well.
"This is a big deal – with a decentralized exchange there will be trust, and hence volume, for [the] trading of equities and digital tokens representing other assets," one crypto proponent said on Twitter. "Could be a game-changer for a distressed economy like Venezuela," he added.
Now not just anyone can download the Venezuelan government's defi app and think they can start swapping coins. The BDVE registration process involves the use of a SIDEME-related digital identification service, and you have to be a Venezuelan citizen. The BDVE defi exchange says there are zero commissions for buying and selling in fiat. Although there's a 0.1% commission for alternative digital asset purchases.
Decentralized finance (defi) is allegedly coming to Venezuela after a recent decree from Venezuelan President, Nicolás Maduro and the United Socialist Party of Venezuela. The government recently introduced a defi platform called BDVE that purportedly provides Venezuelan citizens with the means to swap ERC20 tokens in a noncustodial manner.
Maduro's "Anti-blockade Law for National Development and the Guarantee of Human Rights" mandate definitely highlights the use of various crypto assets, and the BDVE cushions the idea.
The post Venezuela's State-Run 'Defi' Crypto Exchange Goes Live After Maduro's Anti-Blockade Speech appeared first on Bitcoin News.
BDVE is an exchange connected to the decentralized system of encrypted markets. Its power lies in the ability to negotiate financial assets in a distributed way, saving intermediation and custody costs.
What do you think about Venezuela's so-called defi exchange? Let us know what you think about this subject in the comments below.
Bitcoin.com is author of this content, TheBitcoinNews.com is is not responsible for the content of external sites.
In order to consider the BDVE application 'decentralized' the app promises "access from anywhere in the world, without restrictions." Moreover, BDVE users can "keep custody of their assets," allegedly in a noncustodial fashion.
It's hard to say if BDVE is really noncustodial and operates in a permissionless manner, as it's entirely state-controlled. However, the creators of the BDVE app and website do advertise the phrases "defi" and "decentralized" many times throughout the web portal's pages. BDVE's operations manual not only explains the SIDEME registration process, but it also notes users allegedly hold their own private keys.
The new exchange application is available now via the Google Play app store for Android devices. The BDVE.io web portal welcomes visitors to the "Decentralized Stock Exchange of Venezuela." It also claims to be the "easiest place to buy and sell financial assets in Venezuela."
Send bulk sms with Bitcoin and don't worry If your link gets reported. We are constantly monitoring your links and We'll pause your campaigns if any issue…