With Round 1 Fully Sold Out, ClinTex Launches Round 2 of the CTi Token Sale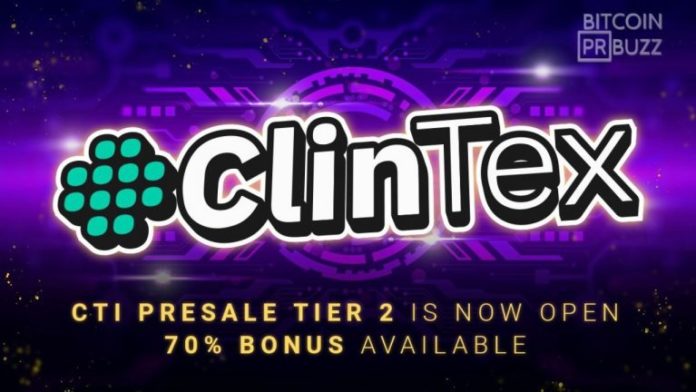 Advertisment
And ClinTex's solution comes at the perfect time – With the disruption of the 0bn/year medical trials market firmly in their sights via a novel solution to bring down costs, reduce friction and increase efficiency and information transfer, ClinTex has successfully completed its first round of token distribution, selling out m USD of tokens.
Contact Email: [email protected]
Tier 2 CTi Presale
Proceeds from this event will be used to develop the platform and bring a change to how the current medical trial and healthcare industry is working.
Following the success of the first sale round, ClinTex have opened up the sale to participants wishing to join the action by acquiring CTi tokens. A total of 26,666,667 CTi are available in this round. ClinTex eventually plans for an IEO, but participants of Tier 2 can take advantage to back the platform's CTi with a 40% bonus, getting their hands on each token at Contact Name: Sean Flanagan
Time Saving

: Normally, it takes up to

15 years for a drug to pass all trials

and into the hands of patients, a time that many might not have. ClinTex's well coordinated platform will reduce the friction that causes time delays.

Research Silos

: Currently, the medical research industry is in disarray when it comes to communicating with each other. Two or even more firms may be spending time looking into the same medicine, leading to waste of time and resources. ClinTex's transparency will bring in close coordination, letting one team work on an issue while the other takes up something else.

Cheaper Medicine

: With the close coordination within the research community, development and supply chain, the patients eventually get a medicine that is cheaper, essentially saving lives.
Leveraging blockchain technology, ClinTex is on a path to eliminate barriers and friction in the current medical industry that waste millions of dollars per day. ClinTex brings changes such as:
Follow ClinTex on Twitter: https://twitter.com/ClinTexCTi
2nd October 2020, London, United Kingdom: The lack of coordination, and major issues with bureaucracy are taking a heavy toll on the medical trials industry. Costing anywhere from 0,000 to upto million USD per day, every single day a medicine is delayed not only leads to huge financial losses, but also affects millions of people as they are deprived of crucial, life saving drugs.
Join the presale today and take advantage of a 40% discount.
About Bitcoin PR Buzz: Bitcoin PR Buzz has been proudly serving the crypto press release distribution needs of blockchain start-ups for over 8 years. Get your Bitcoin Press Release Distribution today.
Join the ClinTex Telegram Community: https://t.me/ClinTexCTi
ClinTex is the source of this content. This press release is for informational purposes only. The information does not constitute investment advice or an offer to invest. The ClinTex token sale is closed to US participants and participants of all countries in which ICO/IEOs are illegal. Virtual currency is not legal tender, is not backed by the government, and accounts and value balances are not subject to consumer protections. Token sales are only suitable for individuals with a high risk tolerance. Only participate in a token event with what you can afford to lose.
The importance of a close-knit healthcare industry has never been more important. The current pandemic has exposed how weak the medical industry is when faced with a crisis that does not care for borders and race.
The post With Round 1 Fully Sold Out, ClinTex Launches Round 2 of the CTi Token Sale appeared first on Bitcoin News.
Check out ClinTex Medium: https://medium.com/@clintexcti
Media Contact Details
Bitcoin.com is author of this content, TheBitcoinNews.com is is not responsible for the content of external sites.
Visit ClinTex Website:
https://www.clintex.io/
Send bulk sms with Bitcoin and don't worry If your link gets reported. We are constantly monitoring your links and We'll pause your campaigns if any issue…